Every Tuesday come join me as I discuss a recent cozy mystery in review and have Goûter (tea time). Readers can enjoy a thoughtful review while sipping on their favorite teas, they may find new teas to love as well. I will be recommending a good tea for each book. Come cozy up with Tea Time Tuesday.
This week we are celebrating life and love in Only Skein Deep. I have read a few of the books off and on in this series but was really excited to get a mystery that wasn't just the mystery but more of the friendships and expecting birth.
To sip while you read I recommend a match green tea, with ice and a hint of vanilla. Don't forget some yummy cookies, gingersnaps are a good choice!
This Week's Tea Time Tuesday
A Knitting Mystery, Book 15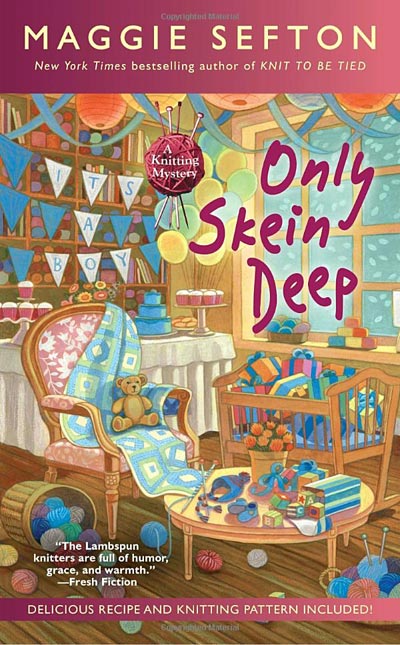 Author: Maggie Sefton
Publisher: Berkley Prime Crime
Print Length: 304 pages
Release Date: Reprint edition (May 1, 2018)
I Rate it:    
Genre: Cozy
In the latest novel from The New York Times bestselling author of Knit to Be Tied, Kelly Flynn and The Lambspun Knitters are eagerly awaiting a bundle of joy but find themselves heaped with trouble instead…
Kelly Flynn and her boyfriend, Steve, couldn't be happier as they await the birth of their bouncing baby boy. Kelly's got a built-in group of fiber arts specialists, the Lambspun Knitters, who are working away on blankets and booties. As they sit around the table crafting their keepsakes, the story of Giselle Callahan is a popular topic of conversation.
Giselle is the young wife of Henry Callahan, a Fort Connor banking scion, who traded in his previous wife of forty years for a newer model. Giselle's prowess as a skilled country club golfer and social climber puts her on someone's hit list. When she is found dead on the greens at the golf club, Kelly and her Lambspun crew worry that a vicious killer is in their midst. They must work fast to bring an unhinged murderer to justice on the back nine before Kelly's very special delivery…
MAGGIE SEFTON is the New York Times Bestselling author of the Berkley Prime Crime Knitting Mysteries. UNRAVELED, 9th in the series, made the New York Times Bestselling Hardcover Fiction List after its June 2011 release. All of the mysteries in the successful series have also been Barnes & Noble Top Ten Bestselling Mysteries. Maggie was first published in historical fiction in 1995 with ABILENE GAMBLE under the pen name Margaret Conlan. She wrote over a million words of historical romance fiction before she ever wrote the first mystery. DYING TO SELL, with real estate agent sleuth Kate Doyle, was published by Five Star/Tekno Mysteries in 2005. Maggie has been a CPA and a real estate agent in the Rocky Mountain West, but finds nothing can match creating worlds on paper.
You can find Maggie on:
Book Review by Bree Herron
This book is more than a cozy mystery it is a testament of the love and devotion the characters and author have to Kelly Flynn. Yes, there is a murder, but the author chose to make a bold (well thought out) move and make this more about Kelly and her personal life. I thought it was neat to see this series in a different manner, and get closer to the characters.
I loved getting to be closer to the community and Kelly. Readers can expect lots of baby chatter, just like in real life poor Kelly is ready to have her baby. People care for Kelly and I can see how much the author cares for Kelly as well, with her tender care and details to this special moment in Kelly's life.
I loved when Kelly gave birth, I know mine wasn't fast but in retrospect it seems like it went quicker. It was neat to be there with Kelly, and see her as a modern woman preparing for her child.
Sometimes an author creates a mystery that just supplements a strong story line. That story line was built around Kelly and her life outside of solving mysteries this time. I feel as though this was the perfect way to do Kelly's pregnancy and delivering, giving readers a chance to make better friendships with the characters and lead the way on solving the mystery.
What's a unique way that you would like to see in a mystery that allows you to get to know the characters more?
**DISCLAIMER: I was provided an opportunity to read this book as an Advanced Reader Copy in return for a fair and honest review.
<h2><span class="inner">Giveaway</span></h2>
Comment on this post before the time ends on 5/16/18. One lucky winner will win the new released mass-market size of this mystery! Perfect for your summer reading time.
Professional Reader Affiliates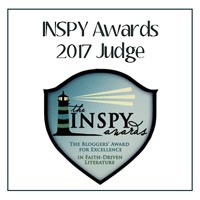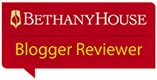 Affiliate Disclosure
I am grateful to be of service and bring you content free of charge. In order to do this, please note that when you click links and purchase items, in most (not all) cases I will receive a referral commission. Your support in purchasing through these links supplements the costs of keeping my website up and running, and is very much appreciated!