Every Tuesday come join me as I discuss a recent cozy mystery in review and have Goûter (tea time). Readers can enjoy a thoughtful review while sipping on their favorite teas, they may find new teas to love as well. I will be recommending a good tea for each book. Come cozy up with Tea Time Tuesday.
Confession: I have been living under a bookshelf, I have never read this series prior to this book and I can saying I have been missing out! What a story, it is as colorful as the Big Easy and full of delightful characters, glitter and a setting that truly gets all of the reader's senses tingling. I am eagerly going back through this series to enjoy the others in the collection, but have to say for this being my first in the series it is AMAZING! Yes, I did yell that but it was a high level of coolness in a cozy mystery. I suggest curling up with the gumbo and some iced tea for this story, maybe some water the spice could be hot!
This Week's Tea Time Tuesday
A Scrapbooking Mystery, Book 15
by Laura Childs & Terrie Farley Moran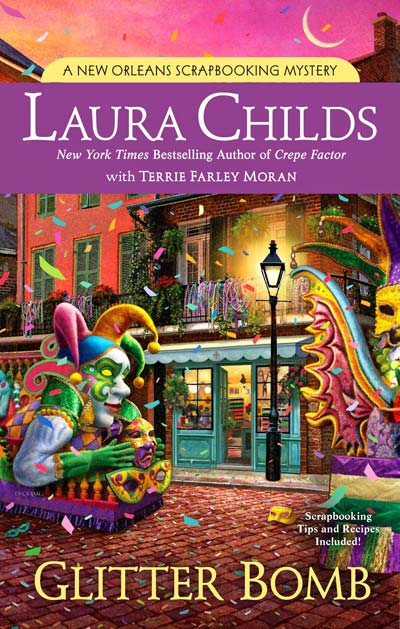 Author: Laura Childs & Terrie Farley Moran
Publisher: Berkley
Print Length: 320 pages
Release Date: October 2, 2018
I Rate it:    
Genre: Cozy
An exploding Mardi Gras float has got to be the strangest murder weapon scrappy sleuth Carmela Bertrand has ever encountered in this latest Scrapbooking Mystery from the New York Times bestselling author.
It's Mardi Gras in New Orleans and scrapbook shop owner Carmela Bertrand is excited to be attending the Pluvius Parade along with her best friend Ava. Carmela's ex-husband Shamus rides by the duo on his float at the head of the parade, when suddenly the revelry turns to disaster. Shamus' float crashes and explodes, and although Shamus escapes unhurt, a member of his krewe is killed.
Carmela and Ava plunge into an investigation of the krewe-member's death, but as they dig deeper it starts to look less like an accident and more like a murder….and Shamus seems less like a victim, and more like a suspect.
Laura Childs is the New York Times bestselling author of the Tea Shop Mysteries, Scrapbook Mysteries, and Cackleberry Club Mysteries. In her previous life she was CEO/Creative Director of her own marketing firm and authored several screenplays. She is married to a professor of Chinese art history, loves to travel, rides horses, enjoys fund raising for various non-profits, and has two Chinese Shar-Pei dogs.
Laura specializes in cozy mysteries that have the pace of a thriller (a thrillzy!) Her three series are:
The Tea Shop Mysteries - set in the historic district of Charleston and featuring Theodosia Browning, owner of the Indigo Tea Shop. Theodosia is a savvy entrepreneur, and pet mom to service dog Earl Grey. She's also an intelligent, focused amateur sleuth who doesn't rely on coincidences or inept police work to solve crimes. This charming series is highly atmospheric and rife with the history and mystery that is Charleston.
The Scrapbooking Mysteries – a slightly edgier series that take place in New Orleans. The main character, Carmela, owns Memory Mine scrapbooking shop in the French Quarter and is forever getting into trouble with her friend, Ava, who owns the Juju Voodoo shop. New Orleans' spooky above-ground cemeteries, jazz clubs, bayous, and Mardi Gras madness make their presence known here!
The Cackleberry Club Mysteries - set in Kindred, a fictional town in the Midwest. In a rehabbed Spur station, Suzanne, Toni, and Petra, three semi-desperate, forty-plus women have launched the Cackleberry Club. Eggs are the morning specialty here and this cozy cafe even offers a book nook and yarn shop. Business is good but murder could lead to the cafe's undoing! This series offers recipes, knitting, cake decorating, and a dash of spirituality.
Book Review by Bree Herron
There are many books set in Lousiana but none that could compare to the vibrant writng of Glitter Bomb. I could easily say that I was drawn to the title of the book, I love sparkles but I was also in love with the cool cover. Carmela Bertrand is something else for a character, with her friends, ex-husband and passion for solving a case. And the recipes and scrapbooking tips were awesome to have at the end of the book. I found myself planning when to have the gumbo ( I love gumbo).
Carmela Bertrand is a scrapbook store owner. She is also the the lovely ex-wife of the prime suspect in the murder of a captain in  the parade. This doesn't sit well with Carmela even if she doesn't want Shamus back as her husband.  Ava is Carmela's friend and partner in crime. They work together and sleuth together throughout this book to track down the killer. I really liked their friendship as part of this book. It reminded me of Nancy Drew and her friends.
This cove screams Mardi Gras in New Orleans! The purple color and the colorful parade scene would make this book just jump right off the shelf into your hands. I think it even sparkles in the design but there is no glitter. It just has a magical and delightful little details to make it look bright.
When you read a lot of books, it is a must to have a great first few chapters. I can't recall enjoying a first chapter as much as I did in this book. I smiled, laughed and gasped all within 20 minutes of starting the book. This set the pace for the entire book and lead into a great mystery.
I am eager to visit New Orleans in person one day, but till then I will happily visit within this series. Seriously, I could hear the sounds, smell the spices and feel the humidity. Now if only my hair and skin glowed from such. But this book was detailed nicely to make the reader feel as though they were right there ready to enjoy the parade and the French Quarter.
Overall, what a start to October! I think that readers of any cozy mystery collection could find a reason to love this book. From the why to the who, this mystery was engaging and fun! I think it sparkled in its own way with details and southern charm. I encourage you to pick this book up or any in the series to have an enjoyable weekend or evening read. ** I read this as the first for me in the series, I think that those that don't mind reading out of order will enjoy it, I felt as though I had been in this series from the start and I was meeting old friends.
4.5 stars easily for the delightful story. I provided this as my rating because I wouldn't have minded a bit more introduction information in the beginning but it did not take away in a manner that I couldn't enjoy the mystery.
Scrapbooking is a hobby that I am trying to gain, who has tips, tricks or page ideas to share?
**DISCLAIMER: I was provided an opportunity to read this book as an Advanced Reader Copy in return for a fair and honest review.
<h2><span class="inner">Giveaway</span></h2>
Help a reader out! I am trying to hone my scrapbooking skills and would love advice if you have it.  If so give some advice, tips, or page ideas- for a chance to win a copy of Glitter Bomb.  Enter by  10.14.18
Professional Reader Affiliates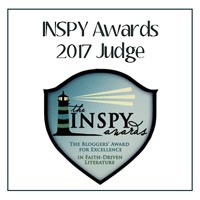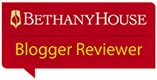 Affiliate Disclosure
I am grateful to be of service and bring you content free of charge. In order to do this, please note that when you click links and purchase items, in most (not all) cases I will receive a referral commission. Your support in purchasing through these links supplements the costs of keeping my website up and running, and is very much appreciated!