Every Tuesday come join me as I discuss a recent cozy mystery in review and have Goûter (tea time). Readers can enjoy a thoughtful review while sipping on their favorite teas, they may find new teas to love as well. I will be recommending a good tea for each book. Come cozy up with Tea Time Tuesday.
It is swirling with snow outside and the wind is biting. Curling up with a good mystery is a remedy to the chill and City of Lies is a delightfully twisted mystery that gives you many moments of brilliance in the lovely Elizabeth Miles. I enjoyed this book with a hot cup of chocolate with cinnamon. Want the recipe I have used? Check it out here!
This Week's Tea Time Tuesday
A Counterfeit Lady Novel, Book 1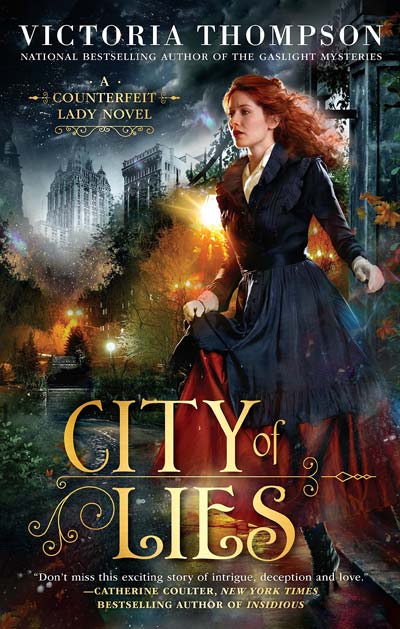 Author: Victoria Thompson
Publisher: Berkley; Reprint edition
Print Length: 336 pages
Release Date: Reprint: September 25, 2018
I Rate it:    
Genre: Cozy
An exciting new historical mystery series featuring woman-on-the-run Elizabeth Miles–from the beloved national bestselling author of the Gaslight Mysteries.
Like most women, Elizabeth Miles assumes many roles; unlike most, hers have made her a woman on the run. Living on the edge of society, Elizabeth uses her guile to relieve so-called respectable men of their ill-gotten gains. But brutal and greedy entrepreneur Oscar Thornton is out for blood. He's lost a great deal of money and is not going to forgive a woman for outwitting him. With his thugs hot on her trail, Elizabeth seizes the moment to blend in with a group of women who have an agenda of their own.
She never expects to like or understand these privileged women, but she soon comes to respect their intentions, forming an unlikely bond with the wealthy matriarch of the group whose son Gideon is the rarest of species–an honest man in a dishonest world. She knows she's playing a risky game, and her deception could be revealed at any moment, possibly even by sharp-eyed Gideon. Nor has she been forgotten by Thornton, who's biding his time within this gilded orbit, waiting to strike. Elizabeth must draw on her wits and every last ounce of courage she possesses to keep her new life from being cut short by this vicious shadow from her past.
Edgar® Nominated author Victoria Thompson writes the Gaslight Mystery Series, set in turn-of-the-century New York City and featuring midwife Sarah Brandt, and the Counterfeit Lady Series set in early twentieth century New York City and featuring con artist Elizabeth Miles. Her latest books are MURDER ON ST. NICHOLAS AVENUE and CITY OF LIES. She also contributed to the award winning writing textbook MANY GENRES/ONE CRAFT. A popular speaker, Victoria teaches in the Seton Hill University master's program in writing popular fiction. She lives in the Chicago area with her husband and a very spoiled little dog.
You can find Victoria on: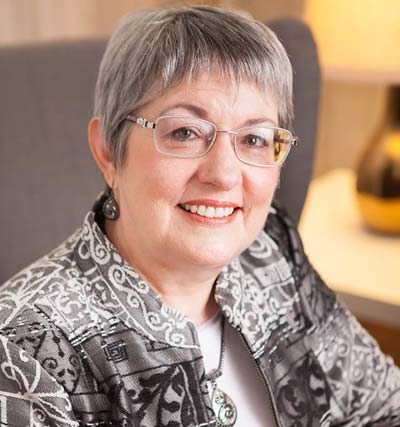 Book Review by Bree Herron
Enter into a new way to follow a mystery. Here the mystery is in deceiving those that were deserving of such. How do you decide who gets deceived? Well, that is up to our cunning character Elizabeth. She is going to morph into characters creating stories with her partner in crime and laying down tiles for new tales to come. It was fun to have such a historical flavored mystery that truly felt like a good, old-fashion mystery.
Elizabeth is a Jackie of all trades. She has the ability to glide into upper class and run through the alley all within pages of each other. She truly has many layers to her character and her personality is a fun one to follow. I really enjoyed the way she worked Thornton, and how she saw the good in Gideon.
The cover gives you a windy day feeling along with mystery. I love the look of this cover and the details that were even in the leaves of the bushes. The font for the title is wonderful, and flows with the period of the story.
I really loved when Elizabeth was interacting with Gideon or any of the upper society characters. It was like watching a person act out a personality while knowing all the while what they were truly thinking. I think the author did a wonderful job of setting up the story in this manner. She provided great dialogue and detailing to the conversations that a reader would pay extra attention to these moments.
Having read other series from this author so I thought I was familiar with her style and type of characters. Nope, just like Elizabeth this book is in a club all its own. It stands out in one's mind, replaying details that flow from the pages to the mind. In this book a reader will find suspense, delight characters with big personalities and the knowing that nothing is as it seems.
Do you enjoy when the main character is the one doing the "dirty" work but only against those they deem to be terrible people?
**DISCLAIMER: I was provided an opportunity to read this book as an Advanced Reader Copy in return for a fair and honest review.
<h2><span class="inner">Giveaway</span></h2>
This is your chance to win the mass market paperback of this story. Enter here for your chance to win by commenting to the question above.
Professional Reader Affiliates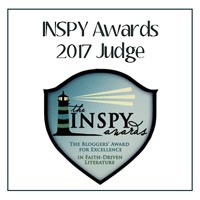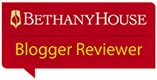 Affiliate Disclosure
I am grateful to be of service and bring you content free of charge. In order to do this, please note that when you click links and purchase items, in most (not all) cases I will receive a referral commission. Your support in purchasing through these links supplements the costs of keeping my website up and running, and is very much appreciated!