Have You Heard About Lady Bird?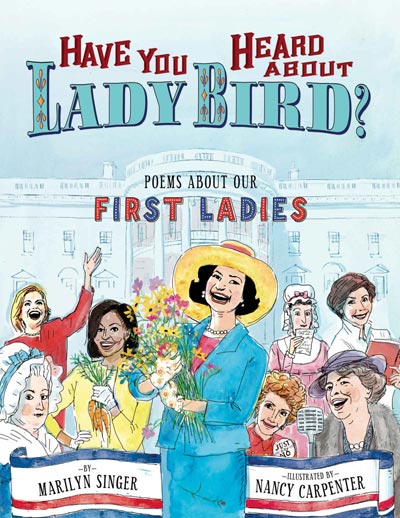 Author: Marilyn Singer, Nancy Carpenter (Illustrations)
Publisher: Disney-Hyperion
Print Length: 56 pages
Release Date: October 16, 2018
I Rate it:    
Genre: Potpourri
The role of First Lady has been defined differently by each woman who's held it, but all of them left an impact on our nation as partner of the commander in chief. Incisive poetry by Marilyn Singer and energetic art by Nancy Carpenter provide a fascinating glimpse into the lives of women—from Martha Washington to Eleanor Roosevelt to Lady Bird Johnson—who variously embraced the position and shied away from it, craved the spotlight and fiercely guarded their privacy, took controversial stands and championed for the status quo. Detailed back matter includes short biographies, quotations, and more.

Marilyn Singer was born in the Bronx (New York City) on October 3, 1948 and lived most of her early life in N. Massapequa (Long Island), NY. She attended Queens College, City University of New York, and for her junior year, Reading University, England. She holds a B.A. in English from Queens and an M.A. in Communications from New York University.
In 1974, after teaching English in New York City high schools for several years, she began to write - initially film notes, catalogues, teacher's guides and film strips. Then, one day, when she was sitting in the Brooklyn Botanic Garden, she penned a story featuring talking insect characters she'd made up when she was eight. Encouraged by the responses she got, she wrote more stories and in 1976 her first book, The Dog Who Insisted He Wasn't, was published by E.P.Dutton & Co.
Since then, Marilyn has published over seventy books for children and young adults. Her genres are many and varied, including realistic novels, fantasies, non-fiction, fairy tales, picture books, mysteries and poetry. She likes writing many different kinds of books because it's challenging and it keeps her from getting bored. She has won several Children's Choice and Parents' Choice Awards, as well as the following: the Creature Carnival, Lee Bennett Hopkins Poetry Award Honor Book, 2005; I Believe in Water: Twelve Brushes with Religion, New York Public Library's "Best Books for the Teen Age," 2001; Stay True: Short Stories for Strong Girls, Popular Paperbacks for Young Adults, 2000 (YALSA); On the Same Day in March, Booklist's Top Ten Science Books of 2000; NCSS-CBC Notable Book, 2000; Deal with a Ghost, finalist, YA category, Edgar Award, 1998; It Can't Hurt Forever, Maud Hart Lovelace Award, 1983; The Course of True Love Never Did Run Smooth, ALA Best Book for Young Adults, 1983; Turtle in July, NCTE Notable, N.Y.Times Best Illustrated and Time Magazine Best Children's Books of 1989; Turtle in July was also a Reading Rainbow review book.
Marilyn currently lives in Brooklyn, NY, with her husband Steve; their standard poodle Oggi, a cousin of their beloved and recently departed poodle Easy, seen in the home page photo; a cat named August ; two collared doves named Jubilee and Holiday; and a starling named Darling. Her interests include dog training, reading, hiking, bird-watching, gardening, meditation, playing computer adventure games and going to the movies and the theatre. She's also a major Star Trek fan.
You can find Marilyn on: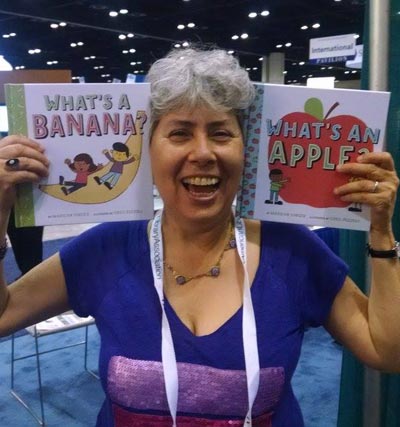 Book Review by Bree Herron
As a mom to a young girl I think it is important to expose her to historical women figures of our nation. This book did it in such a fun way that we found ourselves reading it over and over. The poems are sweet and catchy, easy to read and fit the First Ladies nicely. The illustrations were my personal favorite, they brought the women to life on the pages and were really pretty to look at. I thought that it was an excellent tool to see the women in their roles that impacted our nation.
I could recommend this book to readers and moms. My daughter is four and she really got into reading this book. I am a history buff and this book was perfect in allowing me to "meet" the First Ladies. Easily, a favorite in our house now.
**DISCLAIMER: I was provided an opportunity to read this book as an Advanced Reader Copy in return for a fair and honest review.
Blog Stops
Full Schedule and Details found HERE
<h2><span class="inner">Giveaway</span></h2>
Professional Reader Affiliates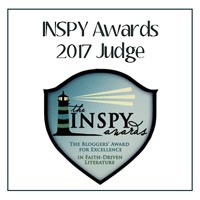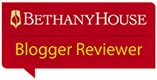 Affiliate Disclosure
I am grateful to be of service and bring you content free of charge. In order to do this, please note that when you click links and purchase items, in most (not all) cases I will receive a referral commission. Your support in purchasing through these links supplements the costs of keeping my website up and running, and is very much appreciated!