Down the Aisle with Murder
Murderous Monday. The day that I dread and like many need that extra coffee to get through. Murderous Mondays is here to help lighten the daily grind, it is meant to highlight good mysteries and possibly some epic murder scenes written in the mystery.
This week I chose a mystery that will make you laugh till you snort. And yet it will also make your heart a bit sad at the end, when you find out the reason for the murder. It might almost sway you to side with the murderer.
This Week's Murderous Monday
Down the Aisle with Murder
Am Otter Lake Mystery, Book 5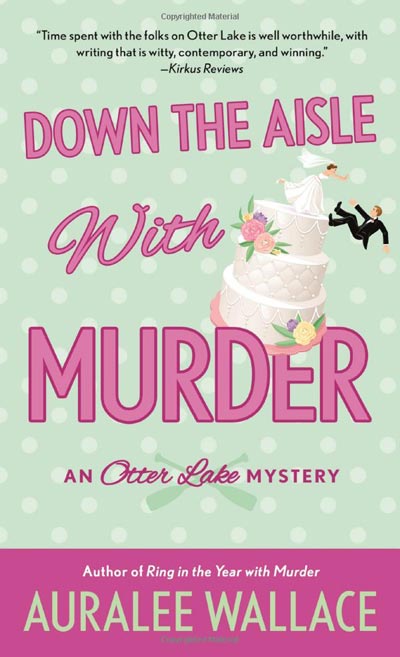 Author: Auralee Wallace
Publisher: St. Martin's Paperbacks
Print Length: 336 pages
Release Date: May 1, 2018
I Rate it:    
Genre: Cozy
First comes love. Then comes. . .murder?
Some wedding stories are so bizarre that you can't even make them up. Take Erica Bloom's latest case of an Otter Lake bride whose BFF is MIA at the time she's supposed to perform her duties as maid of honor. ..only to be found DOA. Erica and her security team—minus her beloved Grady, who's on vacation, trying to stay out of town business and has a no-nonsense sheriff covering for him—have followed every possible lead to find out what really happened to the young woman. Is her death the result of a bachelorette party gone wildly wrong? Or did someone with cold feet snap—and turn into a cold-blooded killer? These are the questions that must be answered for the nuptials, which at the eleventh hour receive a dramatic makeover, to go off without a hitch…before 'til death do us part.
Down the Aisle with Murder is part of the Otter Lake mystery series by Auralee Wallace.
Auralee Wallace is the author of The Otter Lake Mystery series which includes Skinny Dipping with Murder and Pumpkin Picking with Murder. She has played many roles in her life, including college professor, balloon seller, and collections agent. When this semi-natural blonde mother of three children (and psychiatric nurse to two rescue cats) isn't writing humorous novels about quirky characters, she can often be found pontificating about the Golden Age of soap operas or warring with a family of peregrine falcons for the rights to her backyard.
You can find Auralee on: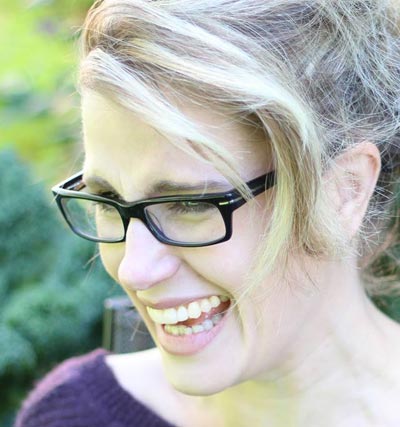 Book Review by Bree Herron
From a mechanical bull to a sheriff doing yoga, this mystery was a blast to read. Now this was first time in Otter Lake for me and from boat rides to bike paths I was feeling pretty at home in this quaint setting. The characters are a delight and will instantly win over the reader.
Enter in Erica and Freddie two BFF's with a passion for security, okay solving the murders that seem to plague the town since Erica returned. Now Erica and Freddie have a wedding that seems doomed from the start on their hands and a murder of the maid of honor. Plus add in the why are you single retreat Erica's mom is hosting and you can see how these two might have a lot going on.
Erica was one of those characters that just become a friend by the end of the book. She was one that I really enjoyed and gave me some Stephanie Plum vibes. Trust me she gets in some very funny pickles.
So the body was found at the wedding venue. Not a good place to find a body. Usually, I mention the way the victim dies but I was really mushy feeling at the end for the murderer. I know it is like going to the dark side, but you would just have read it and see why I feel that way.
PSA: Murder does NOT solve problems, even in fiction.
Otter Lake is host to a variety of characters and shops. I really thought it sounded like the perfect place to live, even with the murders happening, I am sure it is a delightful town.
I haven't laughed so hard reading a book in years. Truly, I was snorting and crying from the laughs I had. Some may question how does one laugh through a murder mystery, but with characters like Erica and Freddie there isn't a chance that you will get through this book with a straight face.
This book was laughs and more, with facing  fears head on we also have characters that show they have many layers and are human in this book too. I am very ready to read all the books in this series and look forward to the next.
Have you ever laughed till you cried because of a book? What book?
**DISCLAIMER: I was provided an opportunity to read this book as an Advanced Reader Copy in return for a fair and honest review.
Come join Bibliophile Reviews, A Cozy Experience and Brooke Blogs for Murderous Mondays, where Monday is anything but dull. Click the links to see what the other sleuth readers are talking about!
Professional Reader Affiliates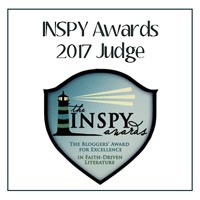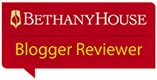 Affiliate Disclosure
I am grateful to be of service and bring you content free of charge. In order to do this, please note that when you click links and purchase items, in most (not all) cases I will receive a referral commission. Your support in purchasing through these links supplements the costs of keeping my website up and running, and is very much appreciated!