Murderous Monday. The day that I dread and like many need that extra coffee to get through. Murderous Mondays is here to help lighten the daily grind, it is meant to highlight good mysteries and possibly some epic murder scenes written in the mystery.
Broken Boot, Texas is the place to be for Cinco de Mayo, only not if your the victim. I chose to highlight this wonderful because I think it's a crying shame to die at a chili cook-off. And I also just adore Josie and her pup, Lenny. If dying at a cook-off doesn't peak your interest then the cover will grab at your cozy cover loving heart. It should be the picture for the definition of a cozy mystery cover.
This Week's Murderous Monday
A Taste of Texas Mystery, Book 3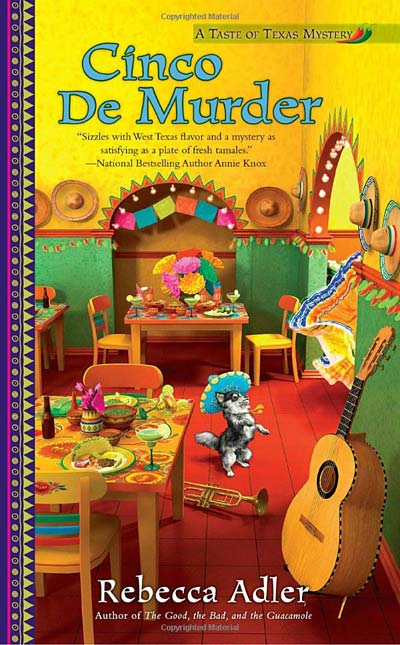 Author: Rebecca Adler
Publisher: Berkley Prime Crime
Print Length: 302 pages
Release Date: April 3, 2018
I Rate it:    
Genre: Cozy
Tex-Mex waitress and part-time reporter Josie Callahan serves up more Lone Star justice in this spicy mystery from the author of The Good, the Bad, and the Guacamole.
It's fiesta time in Broken Boot, Texas, and tourists are pouring into town faster than free beer at a bull roping for the mouthwatering Cinco de Mayo festivities. Tex-Mex waitress Josie Callahan, her feisty abuela, and even her spunky Chihuahua Lenny are polishing their folklórico dances for Saturday's big parade, while Uncle Eddie is adding his own spicy event to the fiesta menu: Broken Boot's First Annual Charity Chili Cook-off.
But Uncle Eddie's hopes of impressing the town council go up in smoke when cantankerous chili cook Lucky Straw is found dead in his tent. And when Josie's beloved uncle is accused of fatal negligence, she, Lenny, and the steadfast Detective Lightfoot must uncover who ended the ambitious chilihead's life–before another cook kicks the bucket.
Rebecca Adler grew up on the sugar beaches of the Florida Gulf Coast. Drawn to the Big Apple by the sweet smell of wishful thinking, she studied acting on Broadway until a dark-eyed cowboy flung her over his saddle and hightailed it to the Southwest.
Prior to writing women's fiction, Gina always found a way to add a touch of the dramatic to her life: dinner theatre in Mississippi, can-can club in Florida, and playing a giant Furskin in the New York Toy Fair, plus the occasional play and musical.
She's currently content to pour her melodramatic tendencies into writing her Taste of Texas culinary mystery series. Set in far West Texas, her humorous stories are filled with delicious suspense and scrumptious Tex-Mex recipes. Her alter ego, Gina Lee Nelson, writes sweet contemporary romances with a sweet, Southern-fried flavor.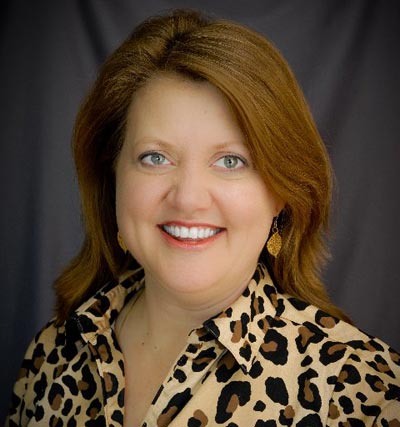 Book Review by Bree Herron
Poor Josie, she is not off to a good cook-off. And it isn't because of the chili. Broken Boot, Texas is never a dull place to be, and it is the place to spend your Cinco de Mayo. I promise you will find yourself having a fiesta of a time.
I can't even with this cover. It is just so cute! I mean Lenny is dancing in his hat. If you were to look up cozy mystery covers this should be the image you see. It begs a reader to come sit down in the festive alcove and have a drink and chips.
Well as it goes with Murderous Mondays, I highlight the death. And seriously, I slightly felt bad for Josie and the crew. The murder was one that didn't appear as it should and it also happened at the cook-off. Okay, kinda of before it started but still readers might need to cozy up with Uncle Eddie's chili for comfort.
Have you stopped by Broken Boot, Texas? Well, if you haven't (via this series) you are missing out on a gem of a location. It is charming, it is rustic and it is unique. I love that you always get a Tex-Mex feeling and the vibe is always chill. Now add the chili cook-off and it is a mouth watering setting to attend a party.
Overall, it was thrill to read this book and I didn't want it to end. I loved solving this mystery with Josie and Lenny, along with the community of Broken Boot. A book rooted in the manners of Texas with the a flair for murder, I doubt a reader can put this book down!
Let's talk chili, if you can't guess I am hungry while writing this post. In this book we get Uncle Eddie's chili, but I want to know (feel free to share recipes) your favorite chili!
**DISCLAIMER: I was provided an opportunity to read this book as an Advanced Reader Copy in return for a fair and honest review.
<h2><span class="inner">Giveaway</span></h2>
One reader will win a copy of Cinco de Murder, giveaway ends May 9th, 2018. Happy Reading y'all!
Come join Bibliophile Reviews, A Cozy Experience and Brooke Blogs for Murderous Mondays, where Monday is anything but dull. Click the links to see what the other sleuth readers are talking about!
Professional Reader Affiliates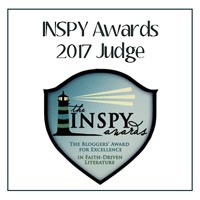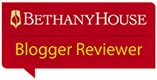 Affiliate Disclosure
I am grateful to be of service and bring you content free of charge. In order to do this, please note that when you click links and purchase items, in most (not all) cases I will receive a referral commission. Your support in purchasing through these links supplements the costs of keeping my website up and running, and is very much appreciated!