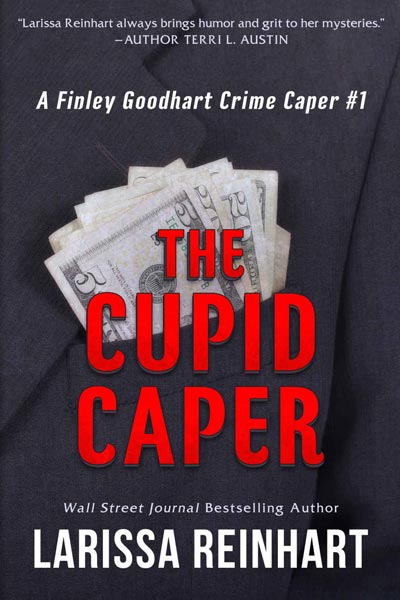 Author: Larissa Reinhart
Publisher: Past Perfect Press
Print Length: 322 pages
Release Date: April 24, 2018
I Rate it:    
Genre: Cozy
Sassy, Sexy, Southern Suspense
She uses her criminal past to catch crooks. He wants her back. In the grift. And in his life. Can Finley Goodhart convince Lex that doing good is the greatest hustle of all?
Ex-grifter Finley Goodhart may try to stay on the straight and narrow, but walking that thin line becomes wobbly when she believes her friend Penny was murdered. The last thing she wants is to work with her ex-partner (and ex-boyfriend), the brilliant (brilliantly frustrating) British con artist, Lex Leopold. However, when it appears Penny's demise might be related to an exclusive matchmaking service for millionaires, Fin needs Lex's help to pull a long con to get the goods on Penny.
Romance is in the air for hustlers, gangsters, and their marks. Unfortunately for Fin and Lex, infiltrating the racket doesn't make for a match made in heaven. This Valentine swindle could stop their hearts for good.
Related subjects include: crime capers, soft-boiled mysteries, organized crime, amateur sleuths, mystery caper, Atlanta-based mystery, light noir, cozy mysteries, women sleuths, murder mystery series, whodunit mysteries (whodunnit), humorous murder mysteries, book club recommendations, amateur sleuth books, small town humor, Southern humor, comic (humorous) crime and mystery, con artist, small town and rural.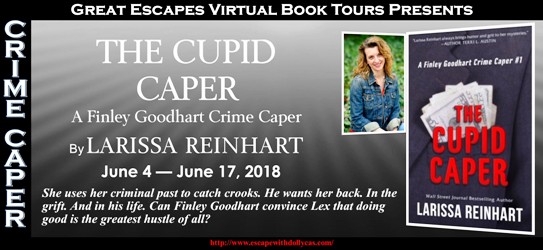 Larissa considers herself lucky to have taught English in Japan, escaped a ferocious monkey in Thailand, studied archaeology in Egypt, and survived teaching high school history in the US. However, adopting her daughters from China has been her most rewarding experience. After moving around the Midwest, the South and Japan, her home address is Peachtree City, Georgia.
However, in June 2015, she and her husband, daughters, and little dog, Biscuit, moved back to Nagoya, Japan, where she continues to write.
She loves small town characters with big attitudes, particularly sassy women with a penchant for trouble. The Cherry Tucker Mystery series with Henery Press begins with Portrait of a Dead Guy (August 28, 2012), a 2012 Daphne du Maurier finalist, a 2012 The Emily finalist, and a 2011 Dixie Kane Memorial winner. Following Portrait are Still Life in Brunswick Stew, (May 21, 2013), the 2014 Georgia Author of the Year and Silver Falchion nominee, Hijack in Abstract (November 5, 2013), and Death in Perspective (June 24, 2014) follow. The fifth Cherry Tucker mystery, The Body in the Landscape, released December 15, 2015. The Cherry Tucker novella, Quick Sketch, in the mystery anthology Heartache Motel (December 10, 2013) is a prequel to Portrait.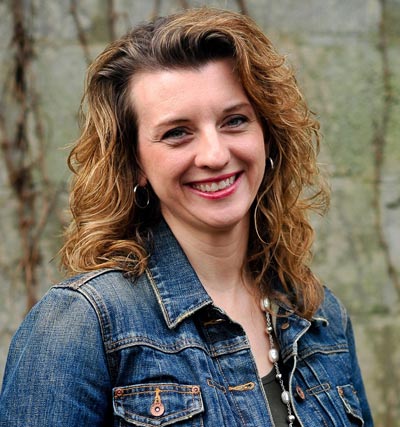 Book Review by Bree Herron
One thing I can always count on from this author is her fabulously strong female characters. Fin doesn't disappoint and the mystery takes many twists and turns to keep a reader guessing to the very end.
Fin says she is out of the con, but when a friend dies she dabbles back in her old profession.  Bring in the different mob groups and a handsome man named Lex, Fin certainly has a vast of characters surrounding her. I love that Fin wants to go beyond the con life and make it right in the world. Granted, she is struggling with her father and that adds to the background in this mystery. Fin handles her moments with ease and Big Red gum.
Anytime Lex and Fin were "a couple" made me a happy reader. I could tell they should just be together, and am hoping to see their future. I also loved the sleuthing style of Fin, when she went to her friend's apartment or went to a social dating gathering, Fin was all in to the scene.
This could easily become my favorite series from this author. I was delighted with not being able to solve the mystery and that I was twisted around. It wasn't hard but I loved that I truly wanted to just enjoy the story and not think to far ahead of Fin. Readers that love a good sleuth, and a intriguing mystery will love this book!
**DISCLAIMER: I was provided an opportunity to read this book as an Advanced Reader Copy in return for a fair and honest review.
<h2><span class="inner">Giveaway</span></h2>
To celebrate her tour, Larissa (1) Print Signed Copy of The Cupid Caper (A Finley Goodhart Crime Caper). Enter here today!
Professional Reader Affiliates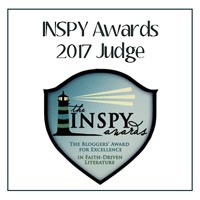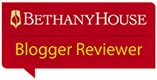 Affiliate Disclosure
I am grateful to be of service and bring you content free of charge. In order to do this, please note that when you click links and purchase items, in most (not all) cases I will receive a referral commission. Your support in purchasing through these links supplements the costs of keeping my website up and running, and is very much appreciated!