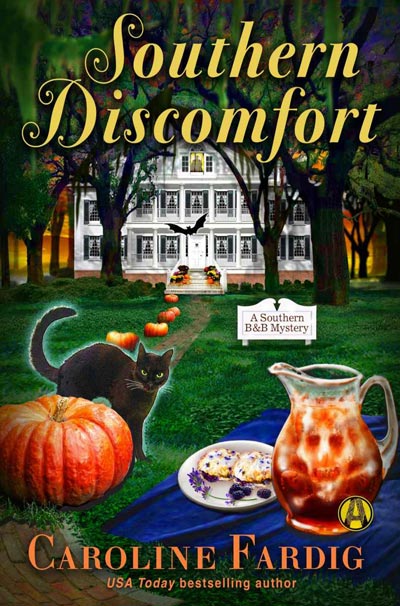 Author: Caroline Fardig
Publisher: Alibi
Print Length: 231 pages
Release Date: March 6, 2018
I Rate it:    
Genre: Cozy
Southern hospitality meets deadly deception in the start of a charming new mystery series from the USA Today bestselling author of the Java Jive novels.
Quinn Bellandini loves her life in Savannah, Georgia, where she runs her grandfather's B&B with her sister, Delilah. From baking fresh scones and serving up grits every morning to ensuring the guests see the best of their historic city, Quinn can't imagine doing anything else—even if it means dealing with nuisances like the occasional malfunctioning commode. But when Quinn drops by the local restaurant owned by her friend Drew Green, and stumbles upon a murder, her whole world comes crashing down.
Drew's brother was always a little surly, but Quinn can't imagine that someone disliked the prickly chef enough to kill him. The police, on the other hand, don't believe that Quinn was simply in the wrong place at the wrong time. Before her guests can even digest the next morning's gourmet breakfast, Quinn learns that she and Drew are suspects.
Drew thinks they should do some investigating of their own. Quinn is pretty sure she's better suited to playing hostess than amateur sleuth. But with Delilah as her cynical sidekick, Quinn starts looking for the real killer—before she gets put away faster than you can say "sugar."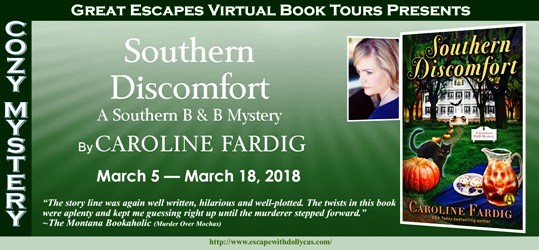 Caroline Fardig is the author of the Java Jive Mysteries series and the Lizzie Hart Mysteries series.  Fardig's Bad Medicine was named one of the Best Books of 2015 by Suspense Magazine.  She worked as a schoolteacher, church organist, insurance agent, funeral parlor associate, and stay-at-home mom before she realized that she wanted to be a writer when she grew up. Born and raised in a small town in Indiana, Fardig still lives in that same town with an understanding husband, two sweet kids, two energetic dogs, and one malevolent cat.
You can find AUTHOR'S FIRST NAME on: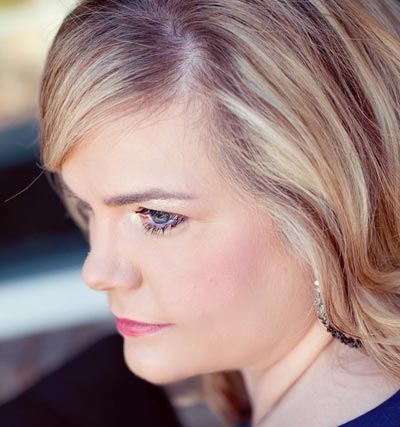 Book Review by Bree Herron
Southern hospitality meets smart sleuthing. This was a mystery I finished in less than a day. It was fun, well paced and the characters come alive to you.  I am down for the sweet tea and mystery with Southern Discomfort.
Quinn and Del are the Bellandini sisters. Running a B&B they are quite the pair. There is a possible ghost (Frank) but Del only believes so far, I am curious to see when Quinn will. Tucker the past and present crush for Quinn defiently spices the story up, and he doesn't seem like such a bad neighbor to have. Quinn and Del's mom Suncloud (Dixie is her given name) is one character that pops in a few times and kinda cracks me up and you can just imagine this southern dame with a name like that. Mainly her name makes me laugh. There is plenty of fun characters to get to know in this mystery and many that I hope to continue to read.
Quinn and Tucker- these two have some bumps to get over. And in the famous words of Del "I still say you should have worn the black bikini." Good news is there is plenty of smoldering moments coming for Quinn, I believe.
It is the year of Southern settings. Savannah is a beautiful setting, and part of the appeal in this book is that it is a real place. We could visit and get a real feel for the area, if so inclined. I am enjoying how the author builds the historic with the modern in this book and can see it nicely.
I think this will be a sweet and delightful series to read. I love Quinn and Del, these sisters know how to work together and the dynamite duo is a pair you will adore! I am eager to stop by the B&B again and hang with the Bellandini sisters.
I love the phrase "Well, sugar honey iced tea." What would be a southern phrase you would use in your day to day life?
**DISCLAIMER: I was provided an opportunity to read this book as an Advanced Reader Copy in return for a fair and honest review.
Professional Reader Affiliates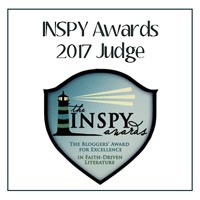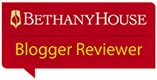 Affiliate Disclosure
I am grateful to be of service and bring you content free of charge. In order to do this, please note that when you click links and purchase items, in most (not all) cases I will receive a referral commission. Your support in purchasing through these links supplements the costs of keeping my website up and running, and is very much appreciated!