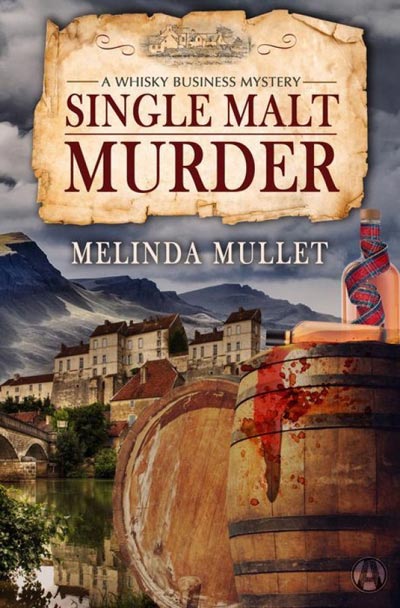 Author: Melinda Mullet
Publisher: Alibi
Print Length: 275 pages
Release Date: March 21, 2017
I Rate it:    
Genre: Cozy
Abigail Logan never expected to inherit a whisky distillery in the Scottish Highlands. But in the first novel of an engaging new series blending fine spirits with chilling mystery, Abi finds that there are secrets lurking in the misty glens that some will go to any lengths to protect . . . even murder.
When Abi inherits her uncle's quaint and storied single malt distillery, she finds herself immersed in a competitive high-stakes business that elicits deep passions and prejudices. An award-winning photojournalist, Abi has no trouble capturing the perfect shot—but making the perfect shot is another matter. When she starts to receive disturbing, anonymous threats, it's clear that someone wants her out of the picture. But Abi's never been one to back down from a fight.
Arriving on the scene with her whisky-loving best friend, Patrick, and an oversized wheaten terrier named Liam, Abi seems to put everyone in the bucolic village on edge—especially her dour but disturbingly attractive head distiller. Acts of sabotage and increasingly personal threats against Abi make it clear that she is not welcome. When one of Abi's new employees is found floating facedown in a vat of whisky, Abi is determined to use her skills as an investigative journalist to identify the cold-blooded killer and dispense a dram of justice before he strikes again. But distilling truth from lies is tricky, especially when everyone seems to have something to hide.

Guest Post from Melinda Mullet
Writing is a lonely business, but I've been fortunate down the years to have a partner in crime. The soul of discretion, he's never revealed a plot line. He listens when the threads are unraveling without judgment or unnecessary input. He warms my toes in the winter and drags me outside in the spring.
My Wheaton Terrier, Macallan, has been my side kick from first draft to first contract. He wormed his way into the Whisky Business series with all of his innate charm and unique personality. He's a handsome boy and he knows it. He has the most soulful brown eyes and in a curious twist of fate he has my father-in-law's eyebrows. My father in law could move his eyebrows independently to express a wide range of emotions without uttering a word. He passed away not long before Mac came into our life and I'm convinced the dog is channeling the old man's spirit. At least I never have to doubt when Mac is disappointed, aggrieved, angry, sad, joyous or feeling neglected — those eyebrows say it all.
This is true. She is quite gifted at reading my emotions. She understands my needs, sometimes before I do, but she does tend to get preoccupied with the metal lap pad. I have learned to sleep through the click, click, click, but it can be most trying. However, I have developed my own techniques for returning her focus to the essential matters of daily life. Taking the laundry out of its storage basket and scattering it piece by piece over all three levels of the house gets her attention and serves as a suitable exercise regime. It gets her up and running at lightening speed. Especially when someone arrives at the door unannounced.
As Eloise says, Mac is my mostly companion. He likes to tag along wherever I go. The coffee shop in the village near us is a favorite. He lives for a blueberry muffin and the foam from the top of my cappuccino. I never drank cappuccino until he came along. Now I pay $4.50 for a coffee so the dog doesn't miss out on his foam.
Then again, he really does pretty much rule the roost in our house. I tried doggie school, but it didn't work. The trainer used "Cheez-whiz" to encourage the pups to do what was requested. The labs, the goldens and the shepherds all jumped to for that little squirt of plastic cheese, but not my fur kid. He was partial to a robust cheddar not the orange Playdoh he was being offered. That was his excuse anyway. He was a master at ignoring the teacher and causing dissent among the ranks.
On the contrary. I thought our academic experience was imminently successful. The people trained up quite nicely. We now purchase high quality snacks — a nice Wesleydale or an aged Gouda. Their only demand is that I sit down to eat it. I believe they are concerned with my digestion bless them.

I try to keep them exercised and to share in their interests. The tall glass bottles with the corks are a big hit, especially with the cheese. Not for playing fetch with apparently, but as a source of soothing entertainment it seems to put them in the right frame of mind for long naps and scratching the stomachs of deserving boys like myself.
Keeping a terrier exercised is a challenge especially in the hot summer months. Mac is partial to a swim in the pool. He'll do a few graceful laps when the spirit moves him. If you splash too much in the deep end his herding instincts will surface. Before you know it he's swimming around you in circles pushing you toward the stairs.
Like the kids, we bought him tons of toys made for his age and teething level. And like the kids, he played with anything but. For Mac the automatic pool sweeper is the abiding passion of his life. He'll pursue it with a single minded devotion to purpose. The black foam tail that flips out of the water every so often is the critical target. The look of triumph when he manages to catch it without getting squirted in the face is magic. He's almost as self-satisfied as when he brought a dead squirrel into the house when he was a puppy.
Some gifts just aren't appreciated. It was a dead squirrel for goodness sake. It doesn't get much better than that. They are a bit dense poor things. Can't seem to get the hang of a straight forward paddling motion in the pool. It really takes all four feet. Instead they insist on kicking around with the back paws sending water everywhere. My job to keep them safe, but when they're all securely on dry land I stalk the elusive water monster that dwells at the bottom of the pool. A cunning foe of endless torment. Hmm, possibly ripe for inclusion in her next book.
The winter months have been long and cold and the stiff joints are setting in. We stay inside more now and curl up in front of the fire, and write, and write, and write.
It really doesn't get much better than that.
She's not wrong about that. Time for a quick nap. Watch for me on the cover of the next book in the Whisky Business series Death Distilled.
Melinda Mullet was born in Dallas and attended school in Texas, Washington D.C., England, and Austria. She spent many years as a practicing attorney before pursuing a career as a writer. Author of the Whisky Business Mystery series, Mullet is a passionate supporter of childhood literacy. She works with numerous domestic and international charities striving to promote functional literacy for all children.
Melinda lives just outside of Washington, DC with her whisky-collecting husband, two extraordinary young women she is proud to call her daughters, and an obedience school drop out named Macallen.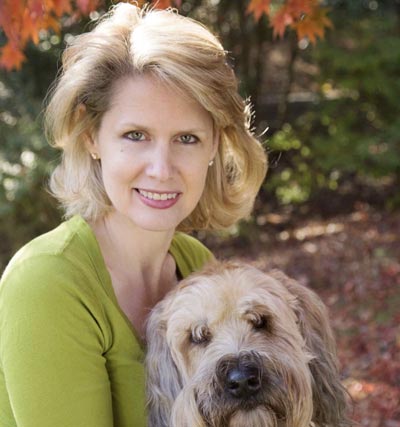 Book Review by Bree Herron
I am now wanting a whiskey as savory as the ones in this book. I also request more in this series I love Abi and her friend Liam a charming pup. This is a great first book in what is seeming to be a wonderful series.
I was unsure about reading this book at first, I was drawn to it by the cover (charming!) then kept in the story because wow, what a character Abi is. I feel like I can call her Abi, now after all we did face uncertainty together, and she almost dies! I mean after such a page turner, superb plot, how could we not be friends?
I really loved the series idea around whiskey, and hope that means Abi will be giving us a fictional taste test in her next adventure. Abi is a strong female, she has a background that was unique to the cozy world, and one that I found fascinating. She had a unique eye to looking at her mystery and the murders, this was very refreshing to this reader. Now for Liam, what a dog! I was instantly loving this faithful, furry companion and his ability to be a humble hero. I can't wait to see what he does next as well.
Overall, this book was a great starter to a new and intriguing series. I am looking forward to September for the second book!
Do you enjoy strong female characters?
**DISCLAIMER: I was provided an opportunity to read this book as an Advanced Reader Copy in return for a fair and honest review.
<h2><span class="inner">Giveaway</span></h2>
Want to get away to the Scottish Highlands, and have your chance to savor this mystery? ENTER HERE for your chance at one of three e-book copies!
Professional Reader Affiliates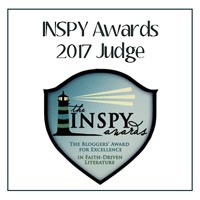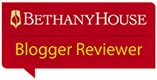 Affiliate Disclosure
I am grateful to be of service and bring you content free of charge. In order to do this, please note that when you click links and purchase items, in most (not all) cases I will receive a referral commission. Your support in purchasing through these links supplements the costs of keeping my website up and running, and is very much appreciated!