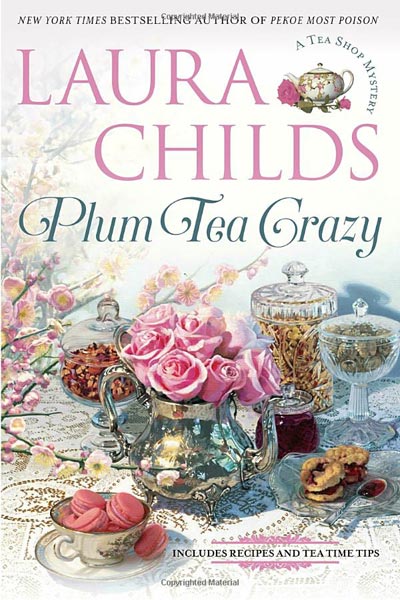 Author: Laura Childs
Series: A Tea Shop Mystery (Book 19)
Publisher: Berkley
Print Length: 336 pages
Release Date: March 6, 2018
I Rate it:    
Genre: Cozy
Theodosia Browning investigates a Charleston steeped in tradition and treachery in the latest Tea Shop Mystery from New York Times bestselling author Laura Childs.
While viewing the harbor's Gaslights and Galleons Parade from the widow's walk of Timothy Neville's Charleston mansion, local banker Carson Lanier seemingly tumbles over a narrow railing, then plunges three stories to his death. But a tragic accident becomes something much more sinister when it's discovered that the victim was first shot with a bolt from a crossbow.
At the request of the mansion owner, Theodosia investigates the tragedy and is soon neck deep in suspects. An almost ex-wife, a coworker, a real estate partner–all had motives for killing the luckless banker, but one resorted to murder to settle accounts.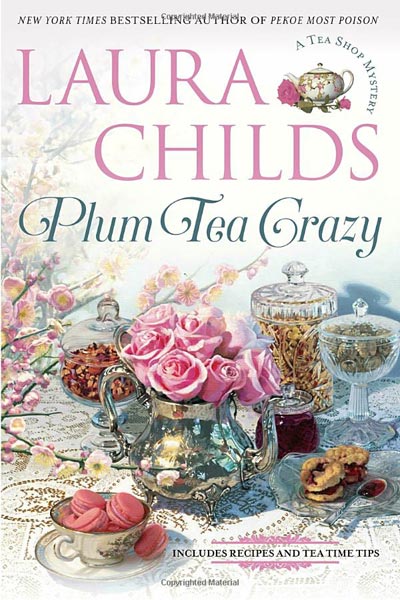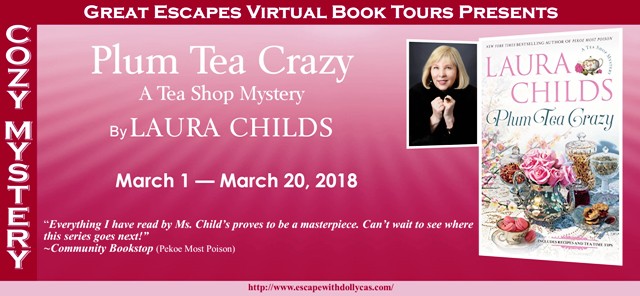 Laura Childs is the New York Times bestselling author of the Tea Shop Mysteries, Scrapbook Mysteries, and Cackleberry Club Mysteries. In her previous life she was CEO/Creative Director of her own marketing firm and authored several screenplays. She is married to a professor of Chinese art history, loves to travel, rides horses, enjoys fund raising for various non-profits, and has two Chinese Shar-Pei dogs.
Laura specializes in cozy mysteries that have the pace of a thriller (a thrillzy!) Her three series are:
The Tea Shop Mysteries - set in the historic district of Charleston and featuring Theodosia Browning, owner of the Indigo Tea Shop. Theodosia is a savvy entrepreneur, and pet mom to service dog Earl Grey. She's also an intelligent, focused amateur sleuth who doesn't rely on coincidences or inept police work to solve crimes. This charming series is highly atmospheric and rife with the history and mystery that is Charleston.
The Scrapbooking Mysteries – a slightly edgier series that take place in New Orleans. The main character, Carmela, owns Memory Mine scrapbooking shop in the French Quarter and is forever getting into trouble with her friend, Ava, who owns the Juju Voodoo shop. New Orleans' spooky above-ground cemeteries, jazz clubs, bayous, and Mardi Gras madness make their presence known here!
The Cackleberry Club Mysteries - set in Kindred, a fictional town in the Midwest. In a rehabbed Spur station, Suzanne, Toni, and Petra, three semi-desperate, forty-plus women have launched the Cackleberry Club. Eggs are the morning specialty here and this cozy cafe even offers a book nook and yarn shop. Business is good but murder could lead to the cafe's undoing! This series offers recipes, knitting, cake decorating, and a dash of spirituality.
Book Review by Bree Herron
Can a mystery get any cozier than A Tea Shop Mystery? I always know that I am getting an excellent mystery, wonderful characters to revisit and southern charm to boot! In the latest there is cats, historical weapons and a delightful scone. Yes, I know that small details but trust me, I would go on for days if I didn't limit myself a bit and I want you to enjoy reading the book!
Well, we meet our victim right in the first pages. I love that Theodosia was right there, and sadly witness more than she probably wanted to. Thank goodness she and Drayton can handled the sleuthing, even dragging Haley in for some of it.  Theo has become a staple of a sleuth in the mystery world, she has a confident appearance and manner, she always finds ways to talk to the reader, and keep us in the loop. Drayton is as charming and handsome in my mind as ever. This man has a way with tea, and his southern hospitality has added to my love of him. Haley is the chef and my goodness, I am out as you are reading this buying the ingredients for her scones from this story.
One point of this series a reader can count on is that the characters make you feel at home. The Indigo Tea Shop has become a haven for many mystery readers, and we look forward to visiting these dear old friends. They will invite you and serve a cup of tea while you stay.
Wow, I always think the covers for this series are stunning but this is overall the prettiest yet. I love, this beauty and grace it shows. The roses I can smell, and I can taste the perfectly steeped tea.
Well, there was a cat show. I know I am a cat lady, so of course this would be a moment I like, but I really loved the moment when Theo put the clues together, her mind is a wonder to be in as a reader.  The ancient gun and weapons show was a neat detail, that was necessary to building the ending. But the best part was the climax in the ending, wow! It had me on the edge of my seat, and holding my breath.
Charleston is hopping in this book! Like I mentioned above, the cat show and weapon show are just a few events happening in this novel. I know that this is a fictional book, but I can't help thinking and envisioning Charleston to be much like it is described in this novel. It is lovely in my mind, and I enjoyed my active social calendar in the story.
Theo is a character that gets right to the point, just like the author always builds a story with specific points and details with a directness focused on the murder. I really love this series, it is one that calls readers back to its pages, builds a connection to the characters and leaves you craving more. Five brilliant stars, though it certainly deserves more.
19 books and counting! Have you read any in this series? Share your thoughts here!
**DISCLAIMER: I was provided an opportunity to read this book as an Advanced Reader Copy in return for a fair and honest review.
<h2><span class="inner">Giveaway</span></h2>
There is always a delight with this series, and to be offering a giveaway here on the tour is fun:
(2) Print Copy – Plum Tea Crazy (A Tea Shop Mystery) by Laura Childs (U.S. Only)
Professional Reader Affiliates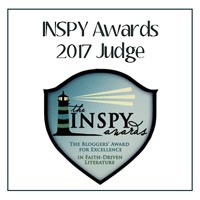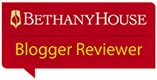 Affiliate Disclosure
I am grateful to be of service and bring you content free of charge. In order to do this, please note that when you click links and purchase items, in most (not all) cases I will receive a referral commission. Your support in purchasing through these links supplements the costs of keeping my website up and running, and is very much appreciated!