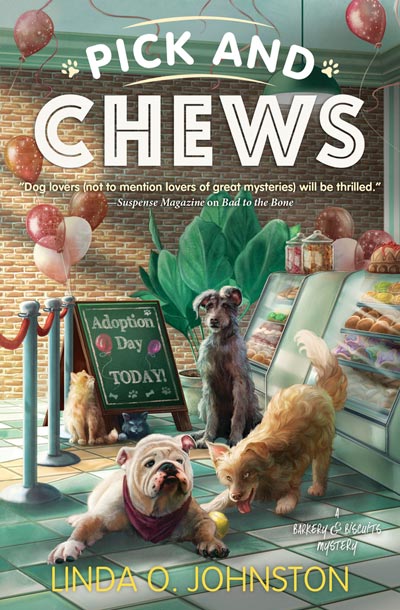 Author: Linda O. Johnston
Publisher: Midnight Ink
Print Length: 290 pages
Release Date: May 8, 2018
I Rate it:    
Genre: Cozy
Carrie Kennersly tries to help her veterinarian boyfriend when he's under suspicion of murder…Is he a keeper, or should she let him go off-leash for good?
As a technician for a local vet and the owner of the Barkery & Biscuits dog bakery, Carrie Kennersly is excited to host a rescue animal adoption event. She's also excited to be in a relationship with veterinarian Dr. Reed Storme, despite his pleas for her to butt out of the murder cases she keeps finding herself involved with. Yet when Reed is accused of killing his former veterinary colleague, he seems a lot more agreeable to having amateur detective Carrie butt back in. Can Carrie clear Reed, or does she care too much for a killer?
Includes recipes for dog treats and people treats!
Guest Post from Linda O. Johnston
Cozy Mysteries and Me
Hi, everyone.  I'm Linda O. Johnston, and I'm delighted to be here as a guest poster on Bibliophile Reviews.  I'm currently on a Great Escapes Blog Tour to let people know about my latest book release: Pick and Chews, the fourth in my Barkery & Biscuits Mystery Series.  And yes, there will be a fifth.
I love writing cozy mysteries.  In fact, in addition to the Barkery & Biscuits Mysteries, I previously wrote three other cozy series.
So what differentiates a cozy mystery series from other kinds of mysteries?  According to Wikipedia, cozy mysteries are a "subgenre of crime fiction in which sex and violence are downplayed or treated humorously, and the crime and detection take place in a small, socially intimate community."  Check that out at: https://en.wikipedia.org/wiki/Cozy_mystery. I consider that a good general definition although nothing it says is engraved in stone. I've seen some cozies that are sexier or more violent than others, for example.  Plus, my first two cozy series took place in Los Angeles, not a small community.
But cozies pretty much all involve amateur sleuths who are dragged into solving at least the first crime–which is almost always murder–because she or a close friend or family member is the primary suspect.  And yes, I said "she"–most protagonists of cozies are female.
Cozies tend to run in series, so the amateur sleuth solves more than one crime over the course of time.  And one enjoyable thing about them is that there's almost always an underlying theme to each cozy series: a certain type of handicraft or aspect of cooking, for example.
Mine all involve dogs.
Sometimes there are other pets, too, but I adore dogs and love writing about them.  My Barkery & Biscuits Mysteries are about a veterinary technician, Carrie Kennersly, who  buys a friend's bakery and turns half into a barkery, where she gets to bake and sell the healthy dog treats she developed.  She has a dog named, appropriately, Biscuit. She gets to sell treats to owners of dogs as well as people treats for humans. And she also still works part time as a vet tech.
I've also written the Kendra Ballantyne, Pet-Sitter Mysteries and its spin-off Pet
Rescue Mysteries, as well as the Superstition Mysteries.
In all of my cozies, my protagonists develop love interests, some more intense than others.  But if they wind up in bed with their guy-friends, that part is off the page.
And if they happen to see the murdered body there may be blood around, but the description is never extremely graphic.
So, yes, Carrie has a love interest in the Barkery & Biscuits series.  His name is Dr. Reed Storme, and he's a veterinarian she works with. And he just happens to become a murder suspect in Pick and Chews.  He'd begun telling Carrie to back off her amateur sleuthing in earlier books, for her own safety.  In Pick and Chews, he's less vehement about her backing off since he can use her help… but he's still concerned about her safety.
I hope you will pick Pick and Chews as a new mystery to read!
Linda O. Johnston (Los Angeles, CA) has published over forty romance and mystery novels, including the Pet Rescue Mystery series and the Pet-Sitter Mystery series for Berkley Prime Crime. She also writes the Barkery & Biscuits Mystery series for Midnight Ink. You can visit Linda at LindaOJohnston.com.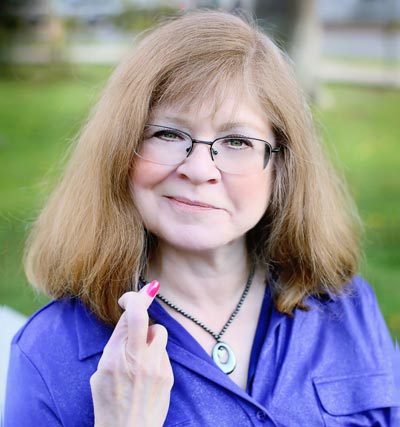 Book Review by Bree Herron
When your furbaby is in need who are you gonna call? Not ghost busters, but possibly your trusted vet. In this case there could be the chance to have more than one trusted vet clinic in town, except the new one is kinda of snooty and shady. Murder doesn't solve problems it creates more in this book and the reader will be questioning who the villain really is.
Carrie is back! I love this sleuth and her love for animals. Being a vet tech Carrie has worked hard along side the attractive Dr. Reed, and now they are finally showing their relationship to the world. Both these characters have been at the fore front of the series and I am happy to see Carrie finding love. Biscuit is Carrie's dog and boy do I love her! I would be thrilled to have such a loyal pup as my companion. I have cats, they are only loyal to their sunny spots in the house.
I loved that Reed was opening up more with Carrie and their relationship was blooming. It was nice to have this point in the book with Reed being involved possibly in the murder case. Carrie was his worry still, and he cared enough to want to keep her safe. Carrie doesn't need someone to keep her safe though, she is kinda a wonder woman in the sleuth world.
You will have a howling good time reading this book! I love the treats, the villains (including the murder victim, seriously so happy to see that one dead) and the community that this novel is set with. You will find yourself drawn to solving the mystery with Carrie and you will want to cozy up in her barkery and enjoy seeing the pets!
**DISCLAIMER: I was provided an opportunity to read this book as an Advanced Reader Copy in return for a fair and honest review.
<h2><span class="inner">Giveaway</span></h2>
Professional Reader Affiliates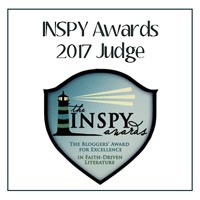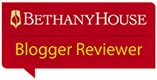 Affiliate Disclosure
I am grateful to be of service and bring you content free of charge. In order to do this, please note that when you click links and purchase items, in most (not all) cases I will receive a referral commission. Your support in purchasing through these links supplements the costs of keeping my website up and running, and is very much appreciated!