Murder's No Votive Confidence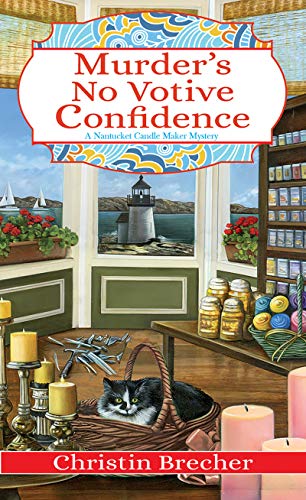 Author: Christin Brecher
Publisher: Kensington Books
Print Length: 400 pages
Release Date: June 25, 2019
I Rate it:    
Genre: Cozy
Nantucket candle store owner Stella Wright specializes in creating unique candles for every occasion. But someone sets the stage for murder when a Memorial Day celebration becomes a wedding to die for . . . 
 
Jessica Sterling's candlelight-themed nuptials promises to be the perfect kick-off to the summer's first official holiday weekend. Stella's thrilled to have been chosen to provide the decorative centerpiece for the wedding ceremony: a two-foot-tall scented unity candle—a symbol of the happy couple's love. But it looks like the bride-to-be's uncle won't be walking his niece down the aisle after he's found dead. The murder weapon is Stella's seemingly indestructible candle, now split in two. 
 
When a beloved local bartender is arrested, Stella's sure a visiting police captain running the case made a rush to justice. With superstitious brides-to-be canceling orders and sales waxing and waning at her store, the Wick & Flame owner decides to do some sleuthing of her own. Abetted by a charming reporter and challenged by the town's sexiest cop, Stella's determined to shine a light on the truth and uncover a killer who's snuffing out her own flame.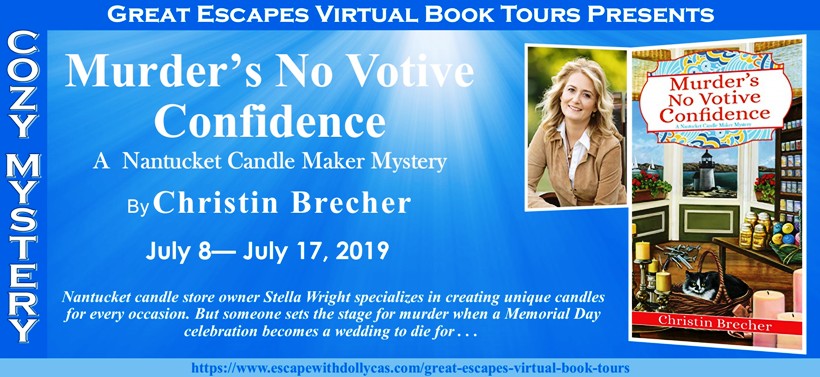 Christin Brecher was born and raised in NYC, where her family and many childhood friends still reside. As such, she feels she is as much of a small-town girl as any. The idea to write the Nantucket Candle Maker series sprang from her life-long connection to the small island off the coast of Massachusetts. Spending summers there as a child, Christin read from her family's library of mystery novels, after which she began to imagine stories inspired by the island's whaling heyday, its notoriously foggy nights, and during long bike rides to the beach. After many years in marketing for the publishing industry, followed by years raising her children, Murder's No Votive Confidence is Christin's debut novel.
You can find Christin on:
Book Review by Bree Herron
Welcome to Nantucket and Stella's shop Wick & Flame, where there is a more than candle making to keep a reader's attention. This is the first of a what I believe to be a strong and delightful new cozy mystery series. This book was one that I enjoyed so much that I bought a copy to keep on my Kindle while I travel. I found Stella to be enjoyable and true to cozy sleuth fashion she is kind and has a great knack for hunting down clues.  Murder's No Votive Confidence is a summer cozy mystery that will tickle your senses, engage your sleuthing mind, and end on a tidy note of who done it. 
Meet Stella, a stellar sleuth and candle maker.  Stella is not only teaching how to make candles, but she is also learning to be a strong sleuth. In her first mystery, we find her having to not only figure out a unity candle that is used as a murder weapon but how to keep composed and help make a wedding possible if that is possible. She is intuned with herself and the characteristics of others. I found that I really enjoyed her, and especially enjoyed listening to her as a character in the audiobook. Stella is a great sleuth in the making and one that I will eagerly follow. 
Isn't this a charming cover? It just begs you to curl up, light a candle, snuggle the cat, and read a good book. I am drawn into how very Nantucket it looks and the coastal scene that calls you through the window. 
I was surprised by who was killed. Yes, I could easily sneak a peek at the synopsis of the book and get an idea but I usually go in blind on books and I thought for sure I would know who the victim would be. That was not the case and I was pleasantly shocked.  It is nice that a new cozy mystery author can surprise this reader and make me keep guessing. 
Nantucket is the place to be for the summer, even if it is through the pages of this book. I really loved that it felt like I was there visiting and working with Stella in the shop. The shop is a place I would like to spend more time and would love to see a mystery set inside of it. 
My overall thoughts on this book: Readers are in for a summer treat in this new debut that is filled with clues and hints that lead us through an epic mystery. Every chapter is made to keep you guessing, each new character is a possible suspect in your mind, and yet we also learn who the community sees as friends. I love that we are building into a new and stellar series.
**DISCLAIMER: I was provided an opportunity to read this book as an Advanced Reader Copy in return for a fair and honest review.
5! Did you see that there are 5 copies of Murder's No Votive Confidence up for a giveaway? Well, click the link here to enter for your chance to read this amazing book.  Find out all the details and enter to WIN at Murder's No Votive Confidence Tour Giveaway.
Professional Reader Affiliates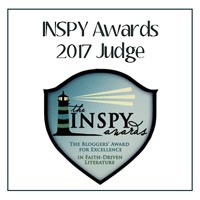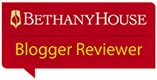 Affiliate Disclosure
I am grateful to be of service and bring you content free of charge. In order to do this, please note that when you click links and purchase items, in most (not all) cases I will receive a referral commission. Your support in purchasing through these links supplements the costs of keeping my website up and running, and is very much appreciated!