Murder is the Main Course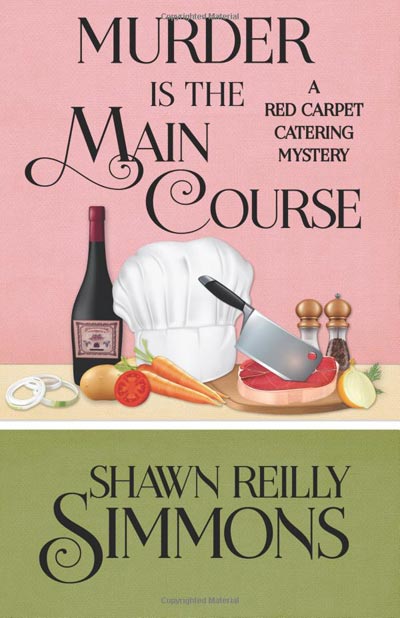 Author: Shawn Reilly Simmons
Publisher: Henery Press
Print Length: 246 pages
Release Date: May 2, 2017
I Rate it:    
Genre: Cozy
Small Town. Big Secrets. Penelope and her Red Carpet Catering crew find themselves transported to a different world when they arrive on their newest movie set in rural Indiana. Surrounded by prickly locals, a nervous director out to prove herself, and a vast forest with secrets all its own, Penelope feels more homesick for the big city than ever before. When she finds their host, owner of Indiana's newest culinary hotspot, dead of an apparent suicide, Penelope works to uncover the darker truths boiling beneath the surface of his seemingly perfect life.
Asked to help keep the late chef's restaurant afloat, Penelope is fried trying to juggle two kitchens and a ravenous cast and crew. When the chef's suicide turns out to be murder, and the restaurant is vandalized in the middle of the night, Penelope must find out who is behind it all before she's the next one on the chopping block.

Shawn Reilly Simmons is the author of The Red Carpet Catering mysteries featuring Penelope Sutherland, an on-set movie caterer. Shawn was born in Indiana, grew up in Florida, and began her professional career in New York City after graduating from the University of Maryland with a BA in English. Shawn has worked as a sales executive, book store manager, fiction editor, convention organizer, wine rep and caterer. Cooking behind the scenes on movie sets perfectly combined two of her greatest passions, movies and food, and provides the inspiration for her series.
Shawn is on the Board of Malice Domestic, is a member of Sisters in Crime, the Crime Writers Association, and Mystery Writers of America. She is editor & co-publisher at Level Best Books, which publishes crime fiction anthologies including The Best New England Crime Stories.
You can find Shawn on: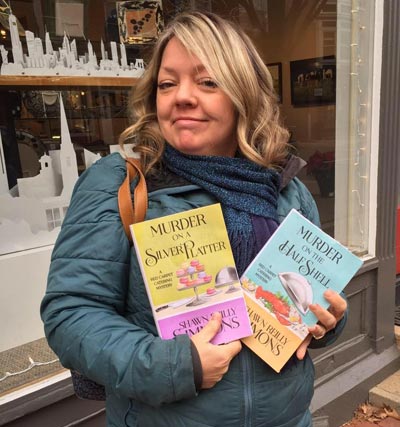 Book Review by Bree Herron
This series is making you hungry for mysteries and murder. In the latest, novel we find ourselves on a set most murderous. Can the crew make it out of the Midwest alive?
You know and love Penleope. She is our charming sleuth full of fun, good food and knack for solving crime. Only this time she is juggling the main course and a dead chef. I found myself quickly reminded why I love this character. She jumps right into anything, ask and she will work her butt off to do it! I love characters that seem to just breathe the words they speak.
Wine, food prep, chef's hat and knife all lead to making a reader want to whip up a roast or a steak. Okay, maybe I did a few time while reading this book, but you won't hear it from me. I love that as the series continues the covers stay with the theme. In fact, Henery Press has epic covers and never disappoints.
Have to say the finding of the body, while I was reading it early (before 6 AM) one morning. It was like "Here I am, in all my murdered glory" Trust me it did me and Penelope a favor of waking up speedy quick! I also want to make a point to mention that this author builds to her whodunit very well. She builds the moment up and then you are smooth riding through the pages of conflict and emotions. It tapers off into a great ending.
Okay, Indiana you are up in the series. Be warned you just might want to visit this state after reading the book.  I was intrigued and interested throughout the entire book. One aspect of this series that always stands out is the change in location and setting. You won't get the same place twice.
Overall, this is a series and book that won't disappoint. As a reader you will find yourself traveling the pages, and sets of many places with this series. I find that to be a big draw for me, the other is the writing is awesome. Characters stand out and continue to be fresh in your mind just waiting for their next story.
Love foodie books, give me some ideas of what I should read next!
**DISCLAIMER: I was provided an opportunity to read this book as an Advanced Reader Copy in return for a fair and honest review.
Professional Reader Affiliates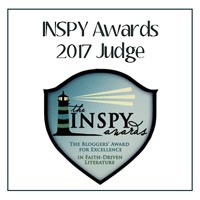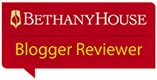 Affiliate Disclosure
I am grateful to be of service and bring you content free of charge. In order to do this, please note that when you click links and purchase items, in most (not all) cases I will receive a referral commission. Your support in purchasing through these links supplements the costs of keeping my website up and running, and is very much appreciated!