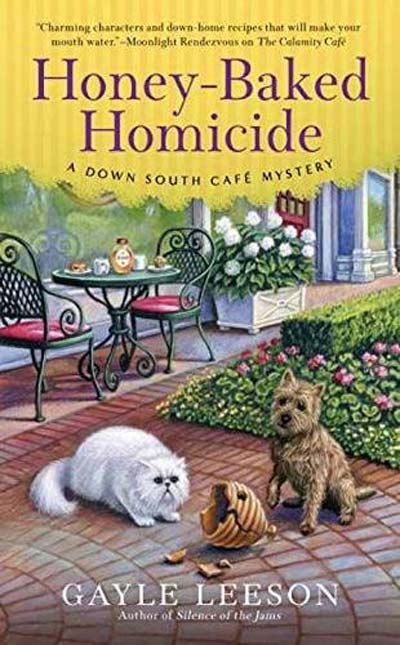 Author: Gayle Leeson
Publisher: Berkley
Print Length: 287 pages
Release Date: December 5, 2017
I Rate it:    
Genre: Cozy
The owner of a delightful Southern café tastes the sharp sting of suspicion in this delectable comfort food mystery . . .
 
It's fall in Winter Garden, Virginia, and business at Amy Flowers' Down South Café has never been better. So when struggling beekeeper Stuart Landon asks Amy to sell some of his honey, she's happy to help. The jars of honey are a sweet success, but their partnership is cut short when Amy discovers Landon's body outside the café early one morning.
As Amy tries to figure out who could possibly have wanted to harm the unassuming beekeeper, she discovers an ever-expanding list of suspects—and they're all buzzing mad. She'll have to use all of her skills—and her Southern charm—to find her way out of this sticky situation…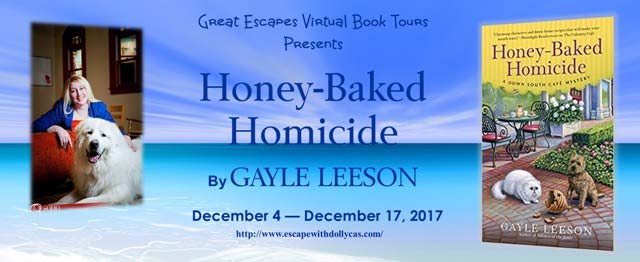 Guest Post from Gayle Leeson
When Fiction Meets Reality
I'd already determined that Stu Landon—the local beekeeper in Honey-Baked Homicide—was a quiet man before I ever met him. Let me back up just a smidgeon. If you've read Silence of the Jams, then you might recall that Stu was in the café one day and suggested that Amy put some honey on her cut finger to help with the healing process.
So I'd met Stu already. I respected him and had a fairly good idea of who he might be. One thing I knew for certain was that Stu wasn't much of a talker. What I didn't know much about was beekeeping. Being a modern writer, my first order of business was to Google "beekeeping." But, although Google is fantastic, I always get a better feel for something when I can experience it firsthand. When I learned there was a beekeeping farm only a 35-minute drive from me, I was off.
Hiltons, Virginia is a beautiful, rural area. When my GPS told me I'd arrived at the bee farm, however, I thought it must be mistaken. I saw no farm, no beehives, no sign. The closest thing to me that I did see was a gas station. I drove on over, parked, and asked a man at the pump for directions.
"Oh, yeah!" he said. And then he said something along the lines of, "Go back the way you came until you come to a little road off to your left. Get on that road and follow it a little piece until you see a sign for the bee farm. Can't miss it."
Wanna bet? I thought. But I got back in the car and went in search of the "little road" I was to follow a "little piece." With directions like those, how could I possibly get lost?
After a couple of misses, I eventually wound up on the correct road. My direction-giver hadn't been embellishing when he'd called the road "little." It was so narrow that I believe I could've shaken hands with the drivers coming from the other direction had we both had our windows down and were feeling neighborly. The road was curvy too, so not only was I navigating the hairpin turns, I was looking for the sign. At last, there it was. It slipped up on me, but I managed to slam on the brakes and make the turn.
This new road I'd turned onto was all gravel and ruts. I creeped forward, dust billowing all around, looking for the farm. All I could see at the end of this—what turned out to be—very long driveway was a house and a garage. Was I in the right place? The sign told me I was. But where were the hives? I'd been expecting to see rows upon rows of beehives, but I couldn't spot a single one.
When I parked and got out of the car, I saw that the garage was actually a shop. I went inside and saw a note that read, "Ring bell for service." I rang the bell. As I waited for someone to appear, I examined all the beekeeping paraphernalia. There were hive kits, frames, form boards, hats with veils, jars, etc.
Soon, a man joined me in the shop. "Can I help you?"
I introduced myself and said I'd like to know more about beekeeping for a book I was writing.
"What do you need to know?"
I thought he'd launch into a monologue on the joys of beekeeping, but I was mistaken. Everything I asked was answered in friendly but clipped sentences. I was standing there thinking, "This is Stu Langdon!" Fortunately, Stu did provide me with a booklet that answered all my questions and gave me some really interesting information.
So, when you read the scene in Honey-Baked Homicide where Amy is worried about her car after traveling the deeply-rutted road to and from Landon's Farm, you'll know I was writing from experience.
Gayle Leeson is a pseudonym for Gayle Trent. I also write as Amanda Lee. As Gayle Trent, I write the Daphne Martin Cake Mystery series and the Myrtle Crumb Mystery series. As Amanda Lee, I write the Embroidery Mystery series. I live in Virginia with my family, which includes her own "Angus" who is not an Irish wolfhound but a Great Pyrenees who provides plenty of inspiration for the character of Mr. O'Ruff. I'm having a blast writing this new series!
You can find me on: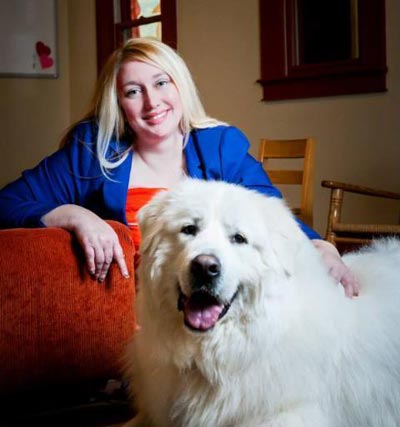 Book Review by Bree Herron
This series is always fun to return to. In the latest Down South Cafe mystery, we are dealing with a buzzing of a mystery. I really enjoyed this one because it has always been a passion to be a bee keeper for me, and I found this theme to be really cool in the book.
Amy is back and this time she might get stung, by the bees! No really, honey and bees are in the mix of this mystery. I really enjoy this character and her calm manner in most cases. I also like how deep she hunted in this book for answers, I felt like she was really invested in the solving of this mystery.
I really liked when Amy was searching for our victim's history and finding out more than she bargained for. It was interesting to see such perspectives on our departed character.
I can't ask for a better mystery to read on the weekend, than one by Gayle. Gayle never leaves a reader hanging she leaves them wanting more from this series! I am eager for the next book by this author.
**DISCLAIMER: I was provided an opportunity to read this book as an Advanced Reader Copy in return for a fair and honest review.
Professional Reader Affiliates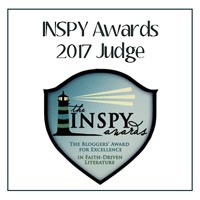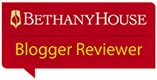 Affiliate Disclosure
I am grateful to be of service and bring you content free of charge. In order to do this, please note that when you click links and purchase items, in most (not all) cases I will receive a referral commission. Your support in purchasing through these links supplements the costs of keeping my website up and running, and is very much appreciated!