Hark The Herald Angels Slay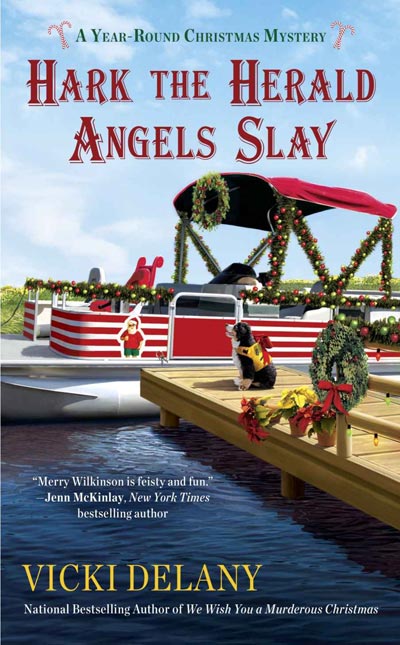 Author: Vicki Delany
Publisher: Berkley
Print Length: 303 pages
Release Date: November 28, 2017
I Rate it:    
Genre: Cozy
Santa's summer vacation plans turn deadly in this festive mystery from the author of Rest Ye Murdered Gentlemen and We Wish You a Murderous Christmas.
The town of Rudolph, New York, has the Christmas spirit all year long—but when homicide heats up a summer holiday, it's up to shop owner Merry Wilkinson to wrap up the case.
In Rudolph, Christmas in July heralds Santa's arrival by boat to begin his summer vacation at the lake, and Merry Wilkinson, owner of Mrs. Claus's Treasures, is looking forward to a busy weekend. But she's caught off guard when her ex-fiancé, Max Folger, unexpectedly arrives with a team from a lifestyle magazine wanting to do a feature on the July festivities.
It's clear that Max's visit has less to do with business and more to do with winning back Merry's heart. Merry has too much on her plate to deal with an old flame, but when Max is found strangled to death in Mrs. Claus's Treasures, she must find out who wanted him dead—and stop a killer from ruining the summer holiday cheer.
Too Much Christmas? Not in Rudolph, New York.
By Vicki Delany
Most of us would agree that Christmas can come too soon. We complain (I certainly do) about decorations in the stores and seasonal ads on TV before summer's even over, never mind before Halloween.
But still, a lot of us do our shopping ahead of time. I know people who buy decorations for next year the week after this year's Christmas, and who start shopping for gifts around the time they put away the New Years' Decorations.  It's a wise woman (or man) who starts her baking in plenty of time. A traditional Christmas cake or old-fashioned English pudding, full of rum or brandy, or sometimes both, needs to be started months ahead to be perfect for the big day.
It's precisely to help out those early birds that the town of Rudolph, New York celebrates Christmas all year round.
Don't rush to your atlases or Google maps looking for Rudolph because I made it up. It's the town at the center of my series, The Year Round Christmas mysteries from Berkley.
Rudolph wants to be known as America's Christmas Town and everything in Rudolph is about celebrating the holidays. All year round. They have a Santa Claus parade twice a year.  The usual one the first Saturday in December, and then another for Christmas in July when Santa arrives by boat. (As featured in the third book in the series, Hark the Herald Angels Slay.)
In Rudolph everyone gets into the spirit of the thing.  Victoria's Bake Shoppe is famous for its gingerbread.  There's Candy Cane Sweets, the North Pole Ice Cream Parlour, The Elves Lunchbox, Cranberries Coffee Bar, Touch of Holly Restaurant, The Yuletide Inn, the Carolers Motel. (Looking at this list it seems as though the residents and visitors to Rudolph like to eat a lot.)
The series protagonist is Merry Wilkinson, owner of Mrs. Claus's Treasures. Merry's dad, Noel, is Santa Claus. Yes, Merry knows that he isn't really Santa, but she does sometimes wonder. He has a way of knowing exactly what someone wants before even they do.
But presents, decorations, ornaments and even food isn't what the holidays are about. Or it shouldn't be.
They know that Christmas is about friendship, family, and love. What we sometimes call Christmas magic. I walked down to the shoreline. Dad was standing ankle deep in the water, surrounded by kids while a circle of adults snapped pictures. For a brief moment his big smile collapsed as he studied my face.
I gave him a nod and a thumbs-up, and he turned his attention back to the children. He splashed about for a few more minutes and then said, "Ho ho ho! There's Mrs. Claus come to take me home. Bye, kids!"
"Bye, Santa," they chorused while delighted parents beamed. Despite all that had happened, I realized I was also smiling.
That Christmas magic. July or December—there's nothing like it.
                        Hark the Herald Angels Slay by Vicki Delany
Vicki Delany is one of Canada's most varied and prolific crime writers. Most recently, she is the author of the Year Round Christmas cozy mysteries from Berkley Prime Crime and (writing under the pen name of Eva Gates) the Lighthouse Library mysteries also from Berkley.
She writes in several different subgenres: Cozies for Berkley Prime Crime (REST YE MURDERED GENTLEMEN and READING UP A STORM - under the pen name of Eva Gates); Standalone novels of suspense (Scare the Light Away, Burden of Memory, MORE THAN SORROW from Poisoned Pen Press), traditional village/police procedural (The Constable Molly Smith Series from PPP - the eight of which is UNREASONABLE DOUBT) and the lighthearted Klondike Gold Rush series (Gold Digger, Gold Fever, GOLD MOUNTAIN from Dundurn Press). She also writes Rapid Reads novellas for Orca Books including the mulit-award-nominated JUBA GOOD.
She began her writing career as a Sunday writer: a single mother of three high-spirited daughters with a full-time job as a computer programmer. Sunday afternoon was - and at that, only now and again - the only time she had to spend all by herself, with a single candle on her desk for a bit of atmosphere, a Bruce Springsteen tape in the tape deck, and a nice cup of tea at her elbow. When she felt like really letting loose, the tea might have turned into a glass of wine.
The years passed, as they tend to do, and the three daughters, somewhat hesitantly, flew the coop, leaving Vicki more time to devote to her writing. She was able to write three novels of suspense, set in Ontario, two of which, Scare the Light Away and Burden of Memory were published to critical acclaim by Poisoned Pen Press of Scottsdale, Arizona.
In 2007, Vicki took early retirement from her job as a systems analyst with a major bank and sold her house in Oakville, Ontario. At that time In the Shadow of the Glacier, the first book in a police procedural series set in the British Columbia Interior was published. After travelling around North America for a year with her dog, Shenzi, she bought a home in bucolic, rural Prince Edward County, Ontario, where she rarely wears a watch and can write whenever she feels like it.
Born in Winnipeg, Manitoba, Vicki was raised mostly in Ontario. As a young woman, fresh from quitting Carleton University in a huff in the middle of her final year, she travelled to South Africa where she promptly met a man, married him, and produced the aforesaid three daughters. Eleven years later, Vicki returned to Canada. Of her experiences in Africa she will only say that it gave her insight into to the politics of power and oppression that few Canadians get to experience.
Vicki is the current president of the Crime Writers of Canada, a member of Capital Crime Writers, and Sisters in Crime.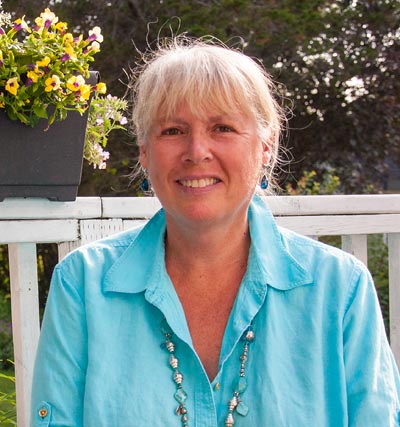 Book Review by Bree Herron
I wait every November/December for the latest book from Rudolph with Merry. This has become my personal tradition, to sit and enjoy the latest Christmas themed mystery. It was a treat to have this particular book set in July, as someone who remembers a reason for Christmas in July (rodeo queen time) it was neat to have this book had some warmth to my cold outside December.
If you haven't met Merry Wilkinson yet, you are missing out. Her and her family are the sweetest of characters. And this Christmas in July is bringing in some secondary characters that will ruffle the pages. Max and his crew were so easy to dislike that it made sense that one of these city slickers would be the victim.
Merry is a wonderful female character and sleuth, I truly never miss a chance to solve a mystery with her.
A mentally warming cover, the boat decked out with holiday greens, the pup in a life boat. And the opportunity to gather my senses in a beach setting, okay this has nothing to do with a beach but living in Wyoming, the moment I see a summer style cover, I am ready for the beach and reading.
Well when Max the rat gets caught by his current fiance with Merry, that was a pretty epic and sad moment. Poor Merry was embarrassed beyond words in her small community by this action, yet it was satisfying to have Max squirm under the wrath of a woman mad.
Rudolph the town that never sees a day without Christmas. I adore this charming town and what it looks like in my mind. Having it in a summer theme was neat and added a new aspect of my imagine.
It isn't the holiday season now without a new book from Vicki Delany. No matter the time of the year in the book, these mysteries always make me feel warm and cozy, ready for the holidays. This book is an absolute delight to read, and will be a charming addition to any mystery reader's book list.
How do you get in the holiday spirit?
**DISCLAIMER: I was provided an opportunity to read this book as an Advanced Reader Copy in return for a fair and honest review.
<h2><span class="inner">Giveaway</span></h2>
Comment on the post for a chance to win a copy of the book!
Professional Reader Affiliates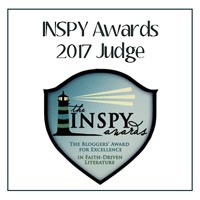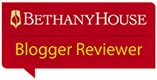 Affiliate Disclosure
I am grateful to be of service and bring you content free of charge. In order to do this, please note that when you click links and purchase items, in most (not all) cases I will receive a referral commission. Your support in purchasing through these links supplements the costs of keeping my website up and running, and is very much appreciated!