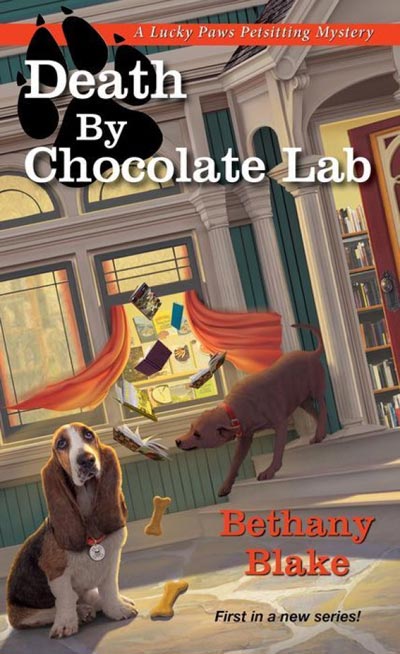 Author: Bethany Blake
Publisher: Penguin Random House Publisher Services
Print Length: 304 pages
Release Date: February 28, 2017
I Rate it:    
Genre: Cozy
Pet sitter Daphne Templeton has a soft spot for every stray and misfit who wanders into the quaint, lakeside village of Sylvan Creek. But even Daphne doesn't like arrogant, womanizing Steve Beamus, the controversial owner of Blue Ribbon K-9 Academy. When Steve turns up dead during a dog agility trial, Daphne can think of a long list of people with motives for homicide, and so can the police. Unfortunately, at the top of the list is Daphne's sister, Piper—Steve's latest wronged girlfriend.
Certain that Piper is innocent, in spite of mounting evidence to the contrary, Daphne sets out to clear her sister's name—and find Axis, Steve's prize-winning chocolate Labrador, who went missing the night of Steve's death. Aided by Socrates, her taciturn basset hound, and a hyperactive one-eared Chihuahua named Artie, Daphne quickly runs afoul of Detective Jonathan Black, a handsome and enigmatic newcomer to town, who has no appreciation for Daphne's unorthodox sleuthing.
Can a free-spirited pet sitter, armed only with a Ph.D. in Philosophy and her two incompatible dogs, find the real killer before she becomes the next victim?
Includes recipes for homemade dog treats!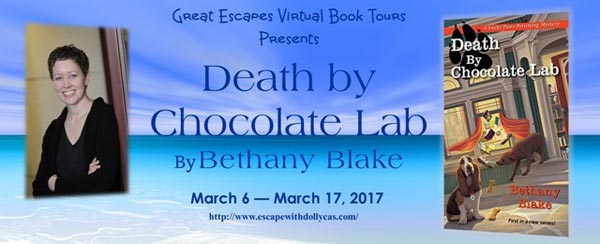 Bethany Blake lives in a small, quaint town in Pennsylvania with her husband and three daughters. When she's not writing, cooking for pets and people or riding horses, she's wrangling a menagerie of furry family members that includes a nervous pit bull, a fearsome feline, a blind goldfish, and an attack cardinal named Robert. Like Daphne Templeton, the heroine of her Lucky Paws Mysteries, Bethany holds a Ph.D. and operates a pet sitting business called Barkley's Premium Pet Care.
Book Review by Bree Herron
This murder is going to the dog trial, and it is gonna be so good! Rottweilers, Labs, Bassets, and an Artie (hybrid breed) oh my, the cuteness of the dogs will make you want a drooling friend next to you while reading this book.
Death by Chocolate Lab, is the best first in a new series of 2017. I am calling it now. Others may tie or come in a close second but I am handing this book my award now. Now, I know you are probably asking "what is this gal saying, it is only March' but trust me I ,will give my top three reasons to love this book, then it is in your capable hands to go forth and read. Now my reasons are specific but this book overall as a mystery was wow. The ending and the actual killer shocked me, truly shocked me. I had to go back and think if I had seen some clues, and there were but they were so fabulously entwined with the other goings on that I didn't really give them a second thought. Seriously, the next book can't get to my shelf or kindle fast enough!
Pet Sitter or Dog Walker- No matter the way you look at it Daphne is fun, and I am eager to hear more about her back stories (I could see a novella about this). She was such a stubborn sleuth that I was laughing out loud at moments ( almost snorted a time or two)of her interaction with the smoldering detective. Daphne also is that friend/sister that you would want in your life if you are down or having a rough day. She had this aurora (green) about her that made this reader feel all relaxed reading her story. Her passion for animals made me feel like, Bethany made Daphne after myself, and I think any animal lover could say the same.
The animals- Now my dog that I would say is an Artie breed, certainly has his parts. But it's the character  that is in Asher that makes him an Artie. Artie was so adorable. That is the only word that describes this rough to look at pup. Socrates is the basset hound and LOL, I swore he had feline tendency (Socrates take it as a compliment buddy) with his larger than life opinions. Now there are plenty of other pups in the story, and you will love them all, drool and unique names.
Detective Black- Sizzle, sizzle, smoldering look. I  mean he is a professional policeman with charming and oh he was hot. Okay, I can't be a mature writer with fancy words, when this character is my fictional boyfriend. Just trust me, single gals you will WANT him. Daphne drove him bonkers (hey, I think I would have too) but he took it and gave mental eye rolls.
Even though I can only give five stars, this book is easily eight paws and two hands up!
Now that you know my reasons, what reasons will you find to love this book?
Leave Bethany a question or a comment about her work!
**DISCLAIMER: I was provided an opportunity to read this book as an Advanced Reader Copy in return for a fair and honest review.
<h2><span class="inner">Giveaway</span></h2>
A great chance for you to win this book is being hosted by the tour, click here for your way to enter!
Here is two ways to get entries with my blog:
Leave a comment, and then hop to Facebook and visit the page! Now you have completed two parts and are on your way  for your chance to win! Don't forget to copy and paste the blogs name into the entries!
Professional Reader Affiliates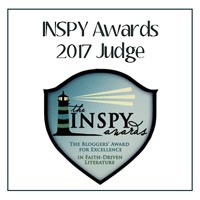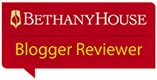 Affiliate Disclosure
I am grateful to be of service and bring you content free of charge. In order to do this, please note that when you click links and purchase items, in most (not all) cases I will receive a referral commission. Your support in purchasing through these links supplements the costs of keeping my website up and running, and is very much appreciated!