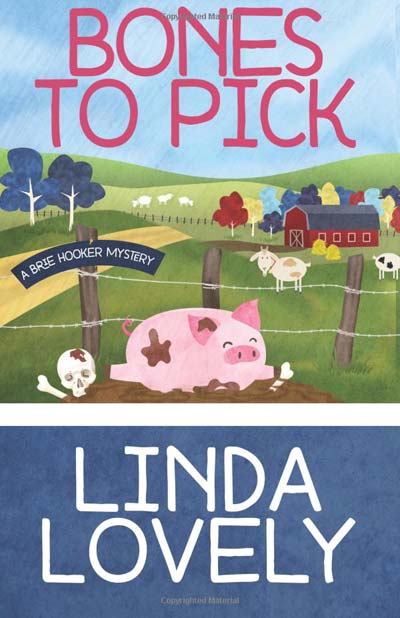 Author: Linda Lovely
Publisher: Henery Press
Print Length: 276 pages
Release Date: October 24, 2017
I Rate it:    
Genre: Cozy
Living on a farm with four hundred goats and a cantankerous carnivore isn't among vegan chef Brie Hooker's list of lifetime ambitions. But she can't walk away from her Aunt Eva, who needs help operating her dairy.
Once she calls her aunt's goat farm home, grisly discoveries offer ample inducements for Brie to employ her entire vocabulary of cheese-and-meat curses. The troubles begin when the farm's pot-bellied pig unearths the skull of Eva's husband, who disappeared years back. The sheriff, kin to the deceased, sets out to pin the murder on Eva. He doesn't reckon on Brie's resolve to prove her aunt's innocence. Death threats, ruinous pedicures, psychic shenanigans, and biker bar fisticuffs won't stop Brie from unmasking the killer, even when romantic befuddlement throws her a curve.
"Bones to Pick grabbed me at chapter one and refused to let go until the very last page. I want to spend more time hanging out with Brie Hooker and all her quirky family and friends. Linda Lovely offers up a charming setting that's so real you can almost smell the hay, a story that's laugh-out-loud funny, and a mystery that will keep you up past your bedtime." – Annette Dashofy, USA Today Bestselling Author of Uneasy Prey
A journalism major in college, Linda Lovely has always made her living as a writer, primarily in public relations and advertising fields. Now, she's focusing on her first love--fiction.
She recently signed a three-book contract with Henery Press for a new humorous Brie Hooker Mystery Series. BONES TO PICK, the first novel in the series, will release this October. The series features Brie, a vegan chef, who lives with her Aunt Eva, a dedicated carnivore, on Eva's Udderly Kidding Dairy farm. Squabbles about dinner menus are the least of the odd couple's problems after a pot-bellied pig accidentally unearths a skeleton that belongs to Eva's unlamented husband, who disappeared years back.
Lovely's LIES: SECRETS CAN KILL, a stand-alone novel set in 1938, earned a finalist spot in the published category of the prestigious Daphne du Maurier Award for Excellence in Mystery/Suspense for Historical Romantic Suspense. The time period between the World Wars provides a fascinating backdrop for the story of an independent woman who comes of age in the Roaring Twenties, then finds herself a social pariah after she leaves her husband. When he's murdered, she's the prime suspect.
Lovely has published novels in two more series--MARLEY CLARK MYSTERIES and SMART WOMEN, DUMB LUCK romantic thrillers.
The MARLEY CLARK MYSTERIES offer a main course of thrills coupled with a generous side of humor and romance. Marley, the 52-year-old, kick-ass heroine, is a retired military intelligence officer. In DEAR KILLER, she's working part-time as a security guard on an island in the SC Lowcountry. In NO WAKE ZONE, Marley travels to Spirit Lake/Lake Okoboji, Iowa, where the author spent many wonderful summers with her aunt, uncle, and cousins. In WITH NEIGHBORS LIKE THESE, the upcoming third book, Marley returns to the Lowcountry.
DEAR KILLER earned a spot in the finals of the RWA Golden Quill competition for published books. Harlequin purchased the mass market rights for both DEAR KILLER and NO WAKE ZONE for its Worldwide Mystery imprint.
Her SMART WOMEN, DUMB LUCK series features content that's a mite steamier than her Marley Clark Mysteries. This series follows the adventures of three friends--Nexi Ketts, a forensic accountant, Riley Reid, director of security for a prestigious university, and Kate Johnson, a medical researcher. In DEAD LINE, Nexi is the main character. In DEAD HUNT the spotlight turns on Riley. DEAD CURE will tell Kate's story.
Lovely served five terms as president of the Upstate South Carolina Chapter of Sisters in Crime and is a volunteer staffer for the renowned Writers' Police Academy. She's also a member of Romance Writers of America (RWA) and International Thriller Writers. Prior to publication, her manuscripts finaled in 15 contests, including RWA's Golden Heart and Daphne du Maurier competitions, Deadly Ink, Murder in the Grove and Malice Domestic.
A native of Iowa, Linda has called the South home for more than thirty years. She and her husband live beside a lake in the South Carolina Upstate. The author's hobbies include reading, swimming, kayaking, tennis, and gardening.
You can find Linda on: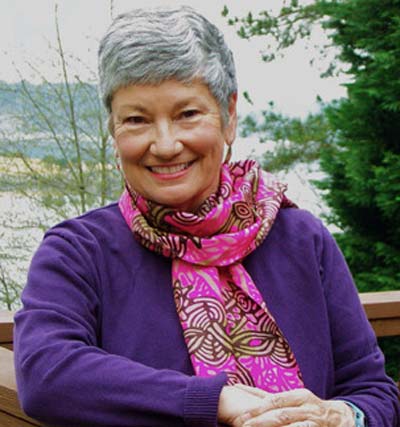 Book Review by Bree Herron
Some times the farm holds secrets that no one was to know. And other times it holds moments of laughter and fun, this book was all this and more. An outstanding first in a new series, Bones to Pick will have a reader wrapped up in the mystery from the first line.
I knew I was going to love Brie because well, the whole shared name thing. But really, Brie is vegan, kind, smart and rolling all of that together makes her a unique sleuth! I personally haven't met a vegan sleuth before and having contemplated going vegan this was a fun twist. Brie finds herself in situations that are hilarious, I sure hope that was Ms. Lovely's point with some because I was laughing through most of the book.
I am sure I have said before how much I adore Henery Press's covers. This one takes the mud pie.It is cheery to look at, with the cute goats, pigs and farm life. I love the sign for the series title, and the barbwire fence adds a unique touch.
I knew I was going to love reading this book when within the first two chapters the bones are found. Thanks to a pig named Tammy, we have our mystery, well and the poor five year old girl. But I really enjoyed picturing the pig in my mind.
Then we go into not only who it could be, but also the purpose for the family gathering, a funeral for another passed family member. This was a hoot, I was laughing at the way I envisioned the will reading, and the reactions of each person.
South Carolina, is the state setting for the mystery. A goat farm is our murder scene. I was hoping that Tammy the pig was our actual suspect, but she was clean. Having the setting in the south made for the perfect first line " Hello, I'm Brie, and I am vegan." Brie made a point that in that area she was a rarity. Another point with a southern setting was that family runs deep, here we have the sheriff and possible skeleton related, and an instant dislike. Hmm, I would say this is my new favorite place to visit with all these little twists.
This is one of the best books I have read in 2017. I am sure that in my year end post it will be given a spot. Brie Hooker is a character that I didn't know I was missing till I met her in this book. She is refreshing and fun. The mystery was well twisted to keep the reader guessing and afterwards you are waiting for more! A new series that we are all sure to want to dig into!
It's release day leave a comment about why you would like to read this book!
**DISCLAIMER: I was provided an opportunity to read this book as an Advanced Reader Copy in return for a fair and honest review.
<h2><span class="inner">Giveaway</span></h2>
It is a new book that means a chance to win! Comment on this post to the question above to be entered!
Professional Reader Affiliates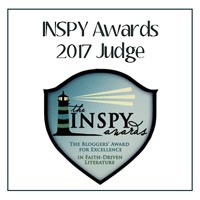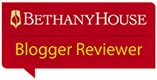 Affiliate Disclosure
I am grateful to be of service and bring you content free of charge. In order to do this, please note that when you click links and purchase items, in most (not all) cases I will receive a referral commission. Your support in purchasing through these links supplements the costs of keeping my website up and running, and is very much appreciated!