Bloodline: A Witch Cat Mystery
Author: Vicki Vass
Publisher: Tedeschi Publishing
Print Length: 216 pages
Release Date: April 18, 2017
I Rate it:    
Genre: Cozy
Fleeing from the witch trials in Salem, Terra Rowan finds herself in modern day Asheville, North Carolina. A dark spirit from the past hunts the last witch of Salem. With the help of the ladies of the Biltmore Society, Terra must discover the secret within the forest to preserve the bloodline.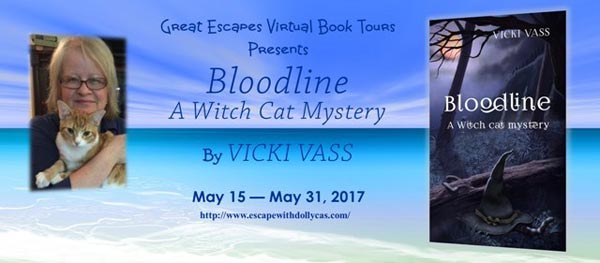 With a passion for shopping and antiques, Vicki Vass turned in her reporter's notebook to chronicle the adventures of Anne and CC, two antique hunters who use their skills to solve a murder case.
Vicki has written more than 1,400 stories for the Chicago Tribune as well as other commercial publications including Home & Away, the Lutheran and Woman's World. Her science fiction novel, The Lexicon, draws on her experience in Sudan while writing about the ongoing civil war for World Relief.
She lives in the Chicago area with her husband, writer and musician Brian Tedeschi, son Tony, Australian shepherd Bandit, kittens Terra and Pixel, seven koi and Gary the turtle.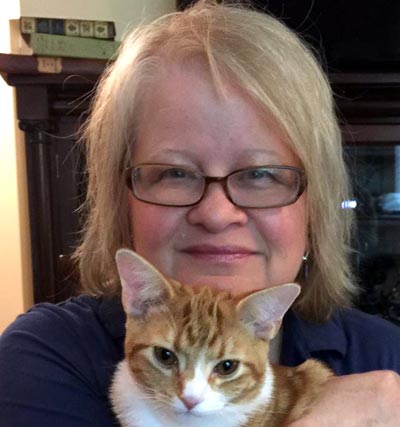 Book Review by Bree Herron
I will admit I was a bit confused at first as to what the character was, then it all clicked. I was so intrigued that I didn't put the book down. And am mourning finishing it. So my question is what is next? As a huge nerd about the Salem Witch Trials, this reader was eager to read this book. It held such a gripping first chapter that I was holding my breath. What would happen? Where were we?
Yes, I get the answers to this question but I do enjoy the unknown factor that I was dealt. I really love that this was a new place for mystic and mystery ideas. It was unique to the idea that it was Salem or New Orleans as many usually are. It was an entirely different area. That was fantastic. Vicki is amazing in her details, and she has a stand out small character, that I was thrilled to read. It was neat to know precisely who she was writing about. I know that she gave this character a lot of love. And the cat(s) well there is one that will instantly grab any feline lover's heart and melt it to little pieces. I can't even. He was just so, so sweet. I have a Pixel in my life and I am blessed beyond words, this book reminded fondly of that.
This book was a top spell in  a new series, if I could I would gladly give it beyond five stars. I am eager to read the next book if there is one, and would love to have a few of those characters stop by!
A delightful guest post from one of the charming characters:
From the Desk of Mrs. Beatrice Twiggs:
Thank you, Bree, for letting me stop by your blog today. Let me introduce myself. I am Beatrice Twiggs, proprietress of the Leaf & Page, a tea and vintage book shop located within the Biltmore Village section of Asheville, North Carolina. I appreciate the opportunity to spend some times with you today.
First, let me take a sip of this marvelous white tea. It is my absolute favorite and I find it very restorative. My bones have been aching in this damp, spring weather and I find that tea takes the aches away.
For those of you who don't know me, I should share a little about myself and how I came to own a tea shop in Asheville of all places. I spent many years as a librarian at the College of William and Mary in Williamsburg, Virginia. I appreciated the history of the location and being in the proximity of one of the birthplaces of American freedom.
After my dear Albert, a professor at the college, died, I decided it was time for me to move on. I moved to Asheville, a place we had visited often and opened my tea shop. I found a perfect spot for it right in the heart of Biltmore Village. This area dates back to the late 1890s when it provided housing for those working on construction of the nearby Biltmore Estate. Over time, the area changed and the downtown is now a charming spot with dress shops, yoga studios, cafes and an estate jewelry store. My shop is right at home in the village, and I feel at home here.
Over the years, the Leaf & Page grew to include a collection of vintage and first edition books. I would find these at area estate sales and on my travels. I bought boxes of books. I keep a detailed list of specific titles that my clients may be seeking. From my connections in my former career, I am able to source a great many books and take great pride in finding the rare.
And, since moving to Asheville, I have taken it upon myself to exhaustively detail the history of both the homes in the village and their former inhabitants as well as those who dwelled in the nearby mountains. I have talked to healers who have shared their remedies with me for fixing various cures and ailments. Often these healers provided the only medicine to the mountain folk. I am afraid if I don't document their remedies, they would be lost. That would be a tragedy. The Appalachian folk believe there is a deep magic hiding in the mountains surrounding Asheville. With the events of late, I believe they are right.
I have found myself welcome in Asheville. I am active with the Historical Society of both the town and Biltmore Village. I also host on a monthly basis, the meeting of the Ladies of the Biltmore Society. I feel especially privileged to be allowed to partake in their meetings as they are all native Ashevillians. You can read about some of our adventures in the new book: Bloodline: A Witch Cat Mystery.
**DISCLAIMER: I was provided an opportunity to read this book as an Advanced Reader Copy in return for a fair and honest review.
<h2><span class="inner">Giveaway</span></h2>
It is your chance to win this amazing book!  One winner will receive:
Professional Reader Affiliates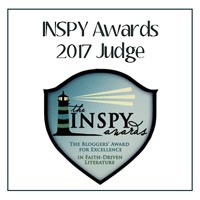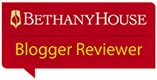 Affiliate Disclosure
I am grateful to be of service and bring you content free of charge. In order to do this, please note that when you click links and purchase items, in most (not all) cases I will receive a referral commission. Your support in purchasing through these links supplements the costs of keeping my website up and running, and is very much appreciated!