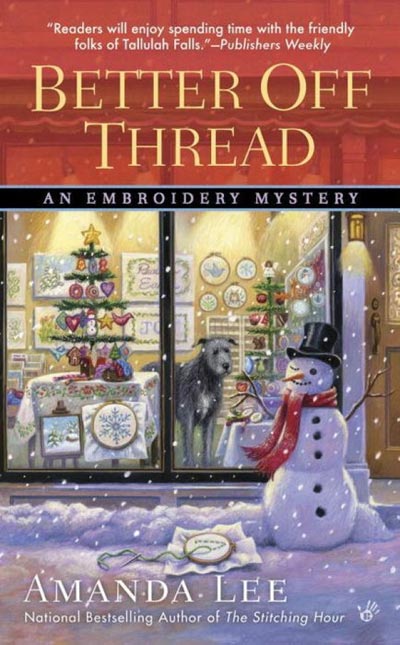 Author: Amanda Lee
Publisher: Berkley
Print Length: 304 pages
Release Date: December 6, 2016
I Rate it:    
Genre: Cozy
Santa finds himself in a stitch of trouble in the tenth in the series from the national bestselling author of The Stitching Hour…
Marcy is busy helping her customers make hand-crafted ornaments at her embroidery shop, the Seven-Year Stitch. But despite the yuletide bustle, when her friend Captain Moe asks for her help, she can't refuse—especially when the favor is to play the elf to his Santa for sick children at a local hospital. Despite the ridiculous outfit, Marcy finds herself enjoying spreading cheer—until the hospital's administrator is found murdered.
Although the deceased had plenty of people willing to fill her stocking with coal, evidence pins the crime on Moe. Now it's up to Marcy, with the help of her police officer boyfriend Ted and her Irish Wolfhound Angus, to stitch together the clues to clear Moe's name—before someone else winds up crossed off Santa's list for good…

When I was a kid, I was torn between whether or not I was going to grow up and be the Incredible Hulk or Wonder Woman. I flirted with being a Jedi Knight for awhile, but I wasn't up for the intense travel associated with the gig. In my teens, I settled on being a writer — although I had no idea the effort that would entail.
Not only am I a writer now, but I'm a writer in several different mediums. I'm a longtime newspaper reporter, an avid reader and a voracious science fiction fanatic.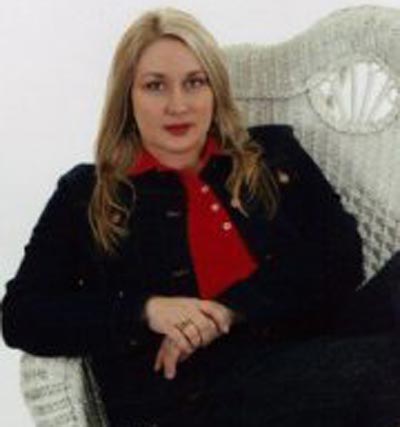 Book Review by Bree Herron
It's the holiday season, and Marcy is helping to make it bright for the children at the local hospital. That is until a murder happens in Santa sleigh. Santa happens to be the charming, and enduring old man that Marcy has a friendship with, and won't hurt a hair on anyone's head.
This was my first time joining Marcy in her hunt for the truth. And she is wonderful to sleuth with, I was enjoying the hunt right up till the last page. And honestly, I have to say that the victim was briefly introduced and I disliked her greatly, no one should argue with Santa or choose a child over another. Honestly, she deserved to get removed from the nice list, permanently. I love the loyalty I felt to Santa (Cpt. Moe) who certainly wasn't a killer. But someone did want you to think that.
Amanda Lee makes characters charming, and enduring. Each find a way into your reader heart, making it hard to walk away when the book  is finished. The romance is cute, and not over powering, the mystery is delightfully unique and of course gives you plenty of avenues to travel to the answer. I really enjoyed my time in this book and look forward to reading more from this series and author!
Are you on the Nice or Naughty list?
**DISCLAIMER: I was provided an opportunity to read this book as an Advanced Reader Copy in return for a fair and honest review.
<h2><span class="inner">Giveaway</span></h2>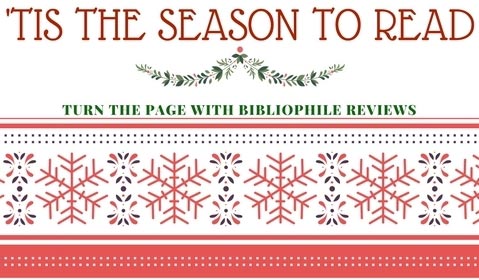 To celebrate the first official Christmas Season, as the Bibliophile, I 'm hosting a giveaway of cozies! Now Santa won't tell me which ones, but it will be a few of our favorites from any of these authors! Follow the event Dec 5th-20th. Enter my 'Tis The Season To Read  giveaway for your chance to win a collection of select holiday e-book cozy mysteries!
*This Giveaway is not endorsed by anyone outside of the Bibliophile Review blog.
Professional Reader Affiliates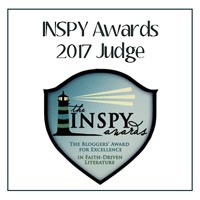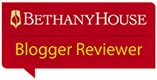 Affiliate Disclosure
I am grateful to be of service and bring you content free of charge. In order to do this, please note that when you click links and purchase items, in most (not all) cases I will receive a referral commission. Your support in purchasing through these links supplements the costs of keeping my website up and running, and is very much appreciated!