The Seven Trilogy Book Blitz
We are celebrating these gorgeous new covers for the Seven trilogy by Sara Davison, with a blog blitz and giveaway hosted by JustRead Publicity Tours!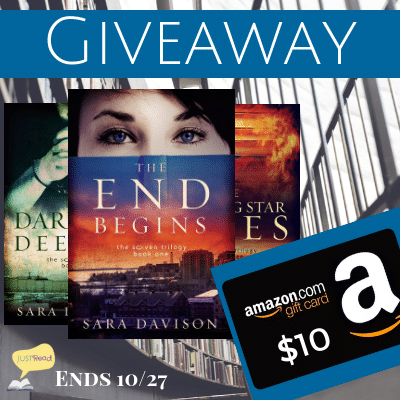 The End Begins (Seven Trilogy #1)
Author: Sara Davison
Publisher: Ashberry Lane Publishing
Print Length: 302 pages
Release Date: September 1, 2015
Genre: Christian
When your beliefs are at war, does love stand a chance?
Bookstore owner Meryn O'Reilly and Army Captain Jesse Christensen are on opposite sides of a battle. After a series of terrorist attacks in 2053, martial law has been declared in Canada and the military has taken over. When a radical Christian group claims responsibility, Jesse and his platoon are sent to Meryn's city to keep an eye on the Christians and ensure they are not stepping outside the confines of the law.
Fiery and quick-tempered, Meryn chafes under the curfew and other restrictions to her freedom. Jesse is equally amused, intrigued, and terrified by her spirit. She could find herself in prison if she shows defiance to the wrong soldier, namely Lieutenant Gallagher.
Jesse watches out for Meryn when possible, although she wants nothing to do with him. His worst fears are realized when she commits a crime he cannot protect her from. Now they both face an uncertain future and the very real threat of losing everything, including their lives. With time running out, Jesse works feverishly to convince the authorities to show leniency to Meryn. And to convince her that love can overcome any barrier that lies between them.
The first book of the Seven trilogy will have you biting your nails to the quick as Jesse and Meryn's romance takes them to a place they never thought possible. Love and beliefs in 2053 battle it out as Canada, and the world, becomes an increasingly dangerous place for those who call themselves Christians.
Buy The End Begins and be inspired by their story of romance and perseverance in a future world that feels all too possible.
Darkness Deepens (Seven Trilogy #2)
Author: Sara Davison
Publisher: Ashberry Lane Publishing
Print Length: 318 pages
Release Date: April 15, 2016
Genre: Christian
Their Secrets Protect Them …
But Secrets are Hard to Keep
No one in the army can find out that Captain Jesse Christensen has become a believer. He and bookstore owner Meryn O'Reilly are forced to meet in secret, facing imprisonment or worse if they are found together. Their relationship deepens, but so does Lieutenant Gallagher's hatred for the Christians in their city. As Gallagher's power grows, it becomes clear that his connections go much further up the chain of command than anyone realized, putting all believers, especially Jesse, in extreme danger.
Meryn wants to give her heart to Jesse fully, but her past holds her back. Although circumstances conspire to keep her silent, she needs to tell him her secret. When he finds out what she has been keeping from him, nothing will stand between them anymore.
Or nothing will ever be the same.
The year is 2054. As the world descends into chaos around them and Christians in Canada and around the world face tighter and tighter restrictions, Jesse and Meryn wage a battle against forces of darkness–both physical and spiritual. They face the threat of being ripped apart forever as Gallagher closes in on his favorite target. Jesse's life hangs in the balance.
Jesse, Meryn, and all believers must decide if their faith is strong enough to carry them through these dark days, or if the cost of declaring allegiance to Jesus Christ is just too high.
You will not want to miss Jesse and Meryn's continuing story of love and faith in a time of chaos.
The Morning Star Rises (Seven Trilogy #3)
Author: Sara Davison
Publisher: Ashberry Lane Publishing
Print Length: 316 pages
Release Date: October 10, 2016
Genre: Christian
In the midst of all the fear and confusion, only one thing is clear …
This isn't over yet.
Jesse Christensen is out of the army, but the real battle has just begun. As martial law continues in Canada in 2054, Major Gallagher has taken over the city. His oppression of believers intensifies in response to a so-called radical Christian group that claims responsibility for more terrorist attacks. But is Gallagher acting in a professional capacity, or is he carrying out a personal vendetta?
Meryn O'Reilly faces a dark and uncertain future after shocking revelations devastate her life. She is determined to follow God's call, but her plans could cost her everything. She and Jesse struggle to surrender everything to a God who is always in control, even when circumstances suggest otherwise.
With the world descending into chaos around them, Meryn and Jesse face the greatest barrier to their love yet–a barrier that may prove too strong to breach.
**DISCLAIMER: I was provided an opportunity to read these book as an Advanced Reader Copy in return for a fair and honest review.
<h2><span class="inner">Giveaway</span></h2>
TOUR GIVEAWAY
(1) winner will receive: a set of all 3 books in The Seven Trilogy (US/CAN only) $10 Amazon gift card
Enter via the Rafflecopter giveaway below. Giveaway will begin at midnight October 20, 2018 and lasts through 11:59pm October 27, 2018. Void where prohibited by law. Winners will be notified within a week of close of the giveaway and given 48 hours to respond or a new winner will be chosen. Giveaway is subject to the policies found here.
Professional Reader Affiliates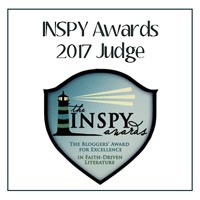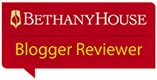 Affiliate Disclosure
I am grateful to be of service and bring you content free of charge. In order to do this, please note that when you click links and purchase items, in most (not all) cases I will receive a referral commission. Your support in purchasing through these links supplements the costs of keeping my website up and running, and is very much appreciated!