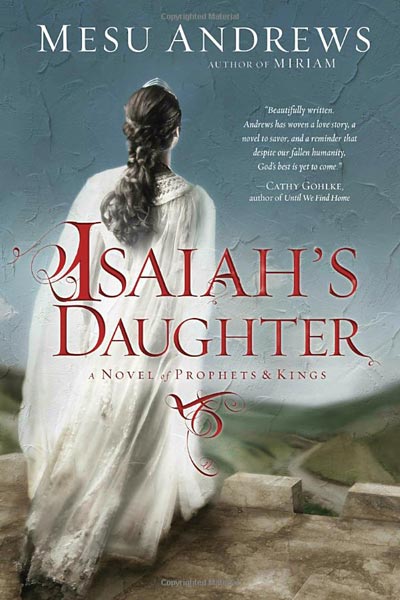 Author: Mesu Andrews
Publisher: WaterBrook
Print Length: 402 pages
Release Date: January 16, 2018
I Rate it:    
Genre: Christian
Gifted Bible teacher and award-winning author Mesu Andrews reaches into the pages of Biblical prophecy and Hebrew tradition to unearth a rags-to-royalty story of the devastated orphan, Ishma—meaning "desolation"—in Isaiah's Daughter (Jan. 16, 2018, WaterBrook). At just 5 years old, Ishma's life crumbles around her when Israelite soldiers violently kill her family and take her into captivity. Upon her release, the royal prophet Isaiah welcomes her into his home where she meets Prince Hezekiah (Hezi)—a boy who has also experienced great tragedy. Ishma and Hezi bond in their suffering, and as they grow in age, so does their love for each other. Aware of their developing relationship, Isaiah adopts Ishma as his daughter and presents her with a new name that will qualify her to marry royalty—Hephzibah (Zibah), meaning "delight of the Lord." Hezi and Zibah marry, but after difficult times of barrenness, Assyrian aggression, disease and challenging prophecies from Isaiah, Zibah remains trapped by fear. Can she entrust everything to the only One who gives life and delivers both a captive heart and a desperate nation?
Excerpt from Isaiah's Daughter
Follow this link to read some of the book! You will get a chance to see the characters and begin the journey!
Mesu grew up with a variegated Christian heritage. With grandparents from the Pilgrim Holiness, Nazarene, and Wesleyan Churches, her dad was a Quaker and mom charismatic. As you might imagine, God was a central figure in most family discussions, but theology was a battlefield and Scripture the weapon. As a rebellious teenager, Mesu rejected God and His Word, but discovered Jesus as a life-transforming Savior through the changed life of an old friend.
The desire for God's Word exploded with her new commitment, but devotional time was scarce due to the demands of a young wife and mother. So Mesu scoured the only two theology books available--children's Bible stories and her Bible. The stories she read to her daughters at night pointed her to the Bible passages she studied all day. She became an avid student of God's Word, searching historical and cultural settings as well as ancient texts and original languages.
Mesu and her husband Roy have raised those two daughters and are now enjoying grandkids, but Mesu's love for God's Word has never waned. She now writes biblical novels, rich with spiritual insight learned through fascinating discoveries in historical research.
Her first novel, Love Amid the Ashes (Revell), won the 2012 ECPA Book of the Year in the Debut Author Category. Love's Sacred Song (Revell), the Song of Solomon story, is available now and received a 4 ½ star rating from RT Reviews. And Love in a Broken Vessel (Revell), the story of Hosea and Gomer, releases in March 2013. A fourth book is scheduled for release in March 2014.
Roy and Mesu live in the Pacific Northwest with their Rottweiler-pitbull named Bouzer, who keeps Mesu company while she writes. Bouzer also enjoys watching movies, long walks by waterfalls, and sitting by the fireplace on rainy Northwest days.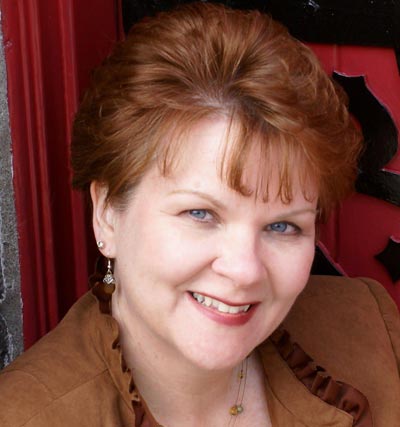 Book Review by Bree Herron
Isaiah's Daughter is more than a fictional story woven with biblical details. It is a story of how love can remain strong, how a woman can become the strength and wisdom, and how God is our almighty in good and bad. This book is designed to make you read with an open heart and mind.
The characters were many in this beautiful novel. I would fill pages upon pages with my thoughts on each. Ishma/Zibah is a girl growing into the dove of hope and peace for Judah. Her life journey is well displayed in this book, and we grow through the parts of the story with Zibah, falling in love with her prince as she does, feeling her loss when she does. She was a character I strongly connected with throughout the book.
Zibah's nearest friend was Yaira, both these girls went through a childhood none would want to be witness to. Yaira, was Zibah's rock and most trusted soul. Both these ladies grow into women that were making wise choices for Judah. Yaira was unfailing in her trust for Zibah and her faith, I admired that she was able to always see the future for Zibah.
Now to the King Hezekiah/Hezi, I worried for him without Zibah. Truly, she was the one that kept him focused and understanding the faith. There were moments that he wanted or would possibly cave into unfaithfulness, but he was a man learning to trust God, not always understanding what that would mean. I really loved that he bonded with Zibah the way it was depicted in the novel, he made me feel the love through the words and into my heart.
Isaiah, a wondrous and tough man that stayed faithful even when it would seem that he might have lost his senses. I think the author really studied Isaiah's story in the Bible. She gave him a mind and heart, that leapt off the page and into the mind. He spoke words that stayed with me throughout the story, and I was moved by the character he was.
Hezi did a lot to be faithful man to Zibah. I really loved their love story that was woven into this story of faith. It was more than just a king and queen, the story showed a respect that was cultivated through years of hardships and joys. I found their love to be inspiring.
I really was inspired by Zibah's interactions in prayer. She was open in ways that I think many of us aren't. I know that I am not always as candid with giving up my frustrations and lack of understanding. Zibah was a beautiful reminder that though things are not always going the way we would like, we can give it up to God.
Isaiah stole the book for me. He was a brilliant mind and character to read. He was the most inspiring character with his never failing  faith and love. Each time he came on to the page I was eager to soak up his words.
This was more than a novel to me, it was a story that took and led this reader through a vast history of Judah and God. It was a story that showed that love and faith go hand in, and will conquer an army. This story showed that God is our only reason to be, and though we find love and happiness here, he has a grander plan. Through these characters, I believe we can all be better Christians.
Have you ever felt a connection to a biblical character?
**DISCLAIMER: I was provided an opportunity to read this book as an Advanced Reader Copy in return for a fair and honest review.
Professional Reader Affiliates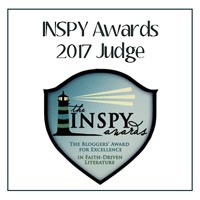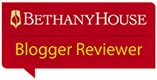 Affiliate Disclosure
I am grateful to be of service and bring you content free of charge. In order to do this, please note that when you click links and purchase items, in most (not all) cases I will receive a referral commission. Your support in purchasing through these links supplements the costs of keeping my website up and running, and is very much appreciated!