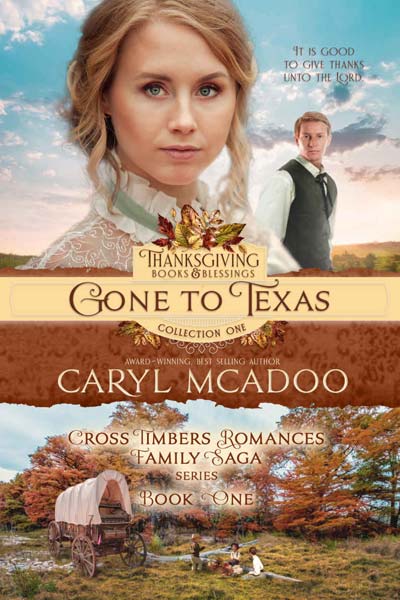 Author: Caryl McAdoo
Publisher: CreateSpace Independent Publishing Platform
Print Length: 433 pages
Release Date: September 6, 2018
I Rate it:    
Genre: Christian
Can beauty truly come from ashes?
In Book One of the Thanksgiving Books & Blessings Collection and the all new Cross Timbers Family Saga series, Gone to Texas uncovers a deception that drives seventeen souls to hard choices. Either stay on the land they thought they'd bought or heed the lure of free land in the faraway wilderness of a new Republic. Rife with peril and hardship, three families knit together by blood and friendship head out with a widowed man, daughter, and his slave, gambling everything they own on the prospect of land ownership and working it together. Does friendship pave a way to marriage? Can puppy-love survive through a harrowing journey to blossom into a forever love? With duress at every turn, can the clan stay together all the way to Texas and accomplish their goals?

Guest Post from Caryl McAdoo
As much as I hated leaving the Buckmeyers, Baylors, and Nightingales and the Red River Valley, I loved starting this fresh Family Saga series with all new characters! GONE TO TEXAS is Book One of the Cross Timber Romances and features three families—the O'Neals, Van Zandts, and Worleys—joined by blood and friendship through Liberty O'Neal. Laud Worley is her little brother and Mallory Van Zandt, her best friend since school days.
Together, they'd traveled south to settle in Tennessee and were about to harvest their first cotton crop that fall in 1840 when they discovered the deed to their land—the land they'd spent all their pooled savings on—was forged and no-good.
The legal owner graciously allows them to stay through harvest, taking his portion of their labor and cottonseed. At the gin, Seve Van Zandt hears rumors of Texas, a new Rebublic out west, offering free land to pioneers willing to tame its wildlands. This first story—book one—is all about their journey to the new country filled with hope and dreams.
A hired widower who with his daughter and slave helped harvest the clan's cotton asked to join them on their journey, and so, on that faithful September morn, seventeen souls set out after they hung a hand painted sign on one of the cabins they left behind. "Gone to Texas"!
Another very special thing about this novel, one hundred twelve thousand words—about three hundred fifty pages, is that it is also book one in a brand new collection! The Thanksgiving Books and Blessings Collection that includes stories from eight other authors besides me: Lena Nelson Dooly, Heather Blanton, Kristin Holt, Kit Morgan, Suzette Williams, Pauline Creeden, George McVey, and Lynette Sowell!
All nine books will have Thanksgiving Dinner with family around the table, giving thanks to God for all his blessings. I've noticed many series launched in December, but Thanksgiving is my favorite. I love giving thanks to the Lord!
And as always, I pray my story gives God glory, and that its readers will be drawn closer to Him through it. He blesses and highly favors me daily. I cannot thank or praise Him enough!
Thank you, too, for reading my stories, reviewing my stories, and participating in the most AWESOME CELEBRATE LIT's Blog Tour!!
Born in California, Caryl McAdoo got to Texas in time to celebrate her first birthday. As a Dallas seventh grader, she remembers a homework essay on 'What will you be doing in 2000?' Looking into the future, Caryl saw herself as an inter-galactically famous author, streaking from planet to planet signing books. She laughs, "But I didn't start writing again until the late '80s, then was so blessed to find the DFW Writers' Workshop in '93."
Her first book debuted '99, then for the next nine years, she averaged a title a year from four presses: two non-fiction, four novels, and three mid-grade chapter books. In March 2014, her first historical Christian romance VOW UNBROKEN
Also known as Grami, she loves fourteen grandsugars, and she and O'Pa—her high school sweetheart and husband of forty-five years—have been rearing four of the grandsons for the past twelve years sending two off to college in 2014. She's dedicated to advancing God's Kingdom through her novels, praise and worship—He frequently gives her new songs—prayers, and her testimony.
She believes all good things are from Him and that her books will minister His love, mercy, and grace to her readers. Irving, Texas remained her life long home until 2008 when she and Ron followed God's leading to Red River County in the far northeast corner of the Lone Star State.
You can find Caryl on: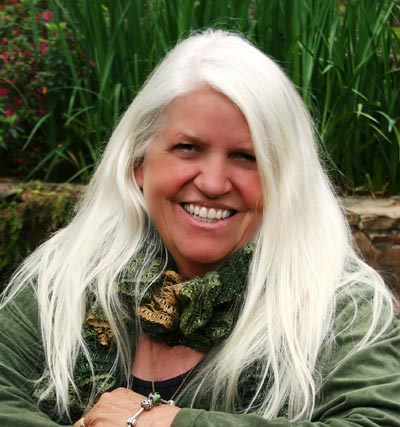 Book Review by Bree Herron
Welcome to a great new book from one of the most talented christian fiction authors. I was very excited to read this novel from Caryl McAdoo. It has kept with the tradition of her style with strong characters that are memorable beyond words,a well described setting and keen plot. It was a delight to read such a novel, and meet her newest characters.
This isn't just a book about family and love, it is about hardships and what one must do in order to overcome them. As always with this author the faith level is wonderful. Truly, God speaks to her hands as she types her books, because it is so natural to have read the faith elements that I do believe that without these elements the book wouldn't be as wonderful.
To think about the hardships during this time in our young country is a historian's dream. We see the struggles of the South and families that aren't as well off as the plantation owners, though they are white.  That  is something many don't always consider when they think of the South in the 1800's. Many assume all the whites had success and the blacks had none. This book also makes a reader think about what is important, just like the characters life in the real world will through you for some twists, but it is all about your faith and how you will choose to follow or lead in your life.
As I have said with many of McAdoo's books this is a must read. It will give you vivid characters and storyline that you can dig into and a reminder of what faith and glory to God can do. Enjoy and relax while reading this book.
**DISCLAIMER: I was provided an opportunity to read this book as an Advanced Reader Copy in return for a fair and honest review.
<h2><span class="inner">Giveaway</span></h2>
To celebrate her tour, Caryl is giving away
GRAND PRIZE : $50 Amazon Gift Card
1st Prize: THREE Choice-of-Caryl's Titles (print–US only or eBook)
2nd-4th: ebook of JOHN DAVID'S CALLING
5th-7th: print copy VOW UNBROKEN
8th-10th: $5 Amazon gift cards!!
Be sure to comment on the blog stops to earn nine extra entries into the giveaway!
Find out all the details and enter to WIN at Gone to Texas Celebration Tour Giveaway.
Professional Reader Affiliates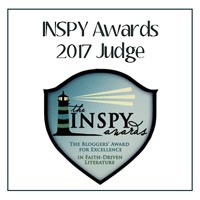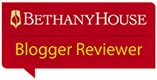 Affiliate Disclosure
I am grateful to be of service and bring you content free of charge. In order to do this, please note that when you click links and purchase items, in most (not all) cases I will receive a referral commission. Your support in purchasing through these links supplements the costs of keeping my website up and running, and is very much appreciated!