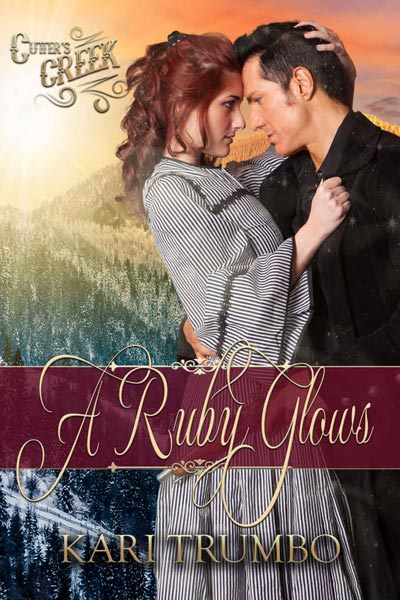 Author: Kari Trumbo
Publisher: CreateSpace Independent Publishing Platform
Print Length: 226 pages
Release Date: January 3, 2017
I Rate it:    
Genre: Christian
Ruby's heart froze as she threw her dead husband over the cliff.
When Beau walks into her life, one glance has her running from her past. He couldn't want someone like her. It should be easy to avoid his quiet charm.
If he can convince her she's a prize, not prey, he might have a chance. Beau's captivated when Ruby scrambles from him whenever he gets too close. Her sweetness is an allure he can't fight.
Can Beau convince Ruby she is beloved?
Don't miss A Ruby Glows, the fifteenth romance in the Cutter's Creek Series, by Kari Trumbo. If you like engaging, sweet stories that leave you wanting even more, then this historical Christian romance is just for you!
Guest post from Kari Trumbo
Greetings! I hope this isn't your first introduction to Cutter's Creek, but if it is, let me explain a bit about it. Cutter's Creek is a series written by myself and three other Christian authors. Though there are numbers on each book, you don't have to read them in order to get into the series, in fact, since each author writes in their own time period it might be somewhat confusing. Especially if you like a consecutive story. However, they are all stand-alone books and can be read in any order. If you like to read them in date order, you'll want to read Kit Morgan's books first, then Vivi Holt, Annie Boone, and finally mine, that will put them roughly in time order.
The Cutter's Creek series has been a huge blessing to me. I've gotten to write with some wonderful authors and learned so much about writing a series together. So, out of my Cutter's Creek books, why did I choose Ruby over Lily, Ivy, or Carol…well, I hate to play favorites, but Ruby is my favorite. She's quiet, and her strength is surprising. She has a big trial, and some hurt to work through, but when you find the right person to help you through it, that's a gift more precious than anything.
I hope you love Ruby as much as I do. Blessings, Kari
Kari Trumbo is one of four authors in the best-selling Cutter's Creek series. She writes Christian Historical Romance and is a stay-at-home mom to four vibrant children. When she isn't writing, or editing, she home schools her children and pretends to keep up with them. Kari loves reading, listening to contemporary Christian music, singing when no one's listening, and curling up near the wood stove when winter hits. She makes her home in central Minnesota with her husband of almost twenty years, two daughters, two sons, three cats, and one hungry wood stove.
You can find Kari on: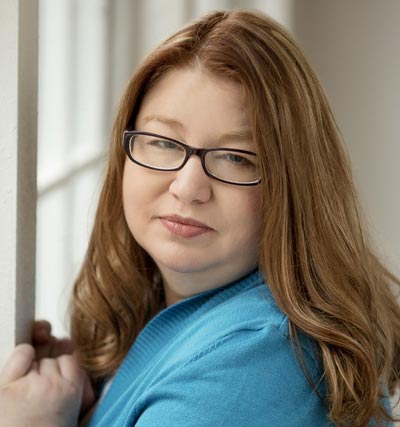 Book Review by Bree Herron
This was the first time I had read anything by Kari Trumbo and it is the 15th book she has written. I was very impressed with her character interaction and the emotions she was able to convey.
Ruby has a past and like many characters looking for redemption, she doesn't know that she is in need, or able to receive the gift. She is very fearful of men, and rightly so her past had abuse both emotional and physical, leading her to feel that no man could be good. Her emotions and feelings pulled on my heart strings, I felt for Ruby. I was cheering for her through the book. She grows which is a huge aspect of the story, the growth of Ruby leads everyone to a happier place.
Beau is a sweet and gentle man. He didn't know he needed this gem of a lady till she was standing in the church with him. He is just what Ruby needs to feel safe and loved again. However, just like Ruby he is unsure.
This author worked hard on the conversations and dialect of the characters. Ruby at one point states how she is uneducated, and each time she speaks you hear the lack of sophistication. That could bother some readers, but I liked that it fit Ruby. Overall, this was a nice story, it had a flow of a spring moving through the lands and was nicely written.
Please join the conversation and comment below. Have you read… If so what did you think/like?
**DISCLAIMER: I was provided an opportunity to read this book as an Advanced Reader Copy in return for a fair and honest review.
<h2><span class="inner">Giveaway</span></h2>
Professional Reader Affiliates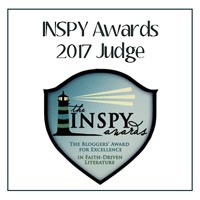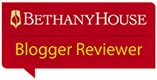 Affiliate Disclosure
I am grateful to be of service and bring you content free of charge. In order to do this, please note that when you click links and purchase items, in most (not all) cases I will receive a referral commission. Your support in purchasing through these links supplements the costs of keeping my website up and running, and is very much appreciated!