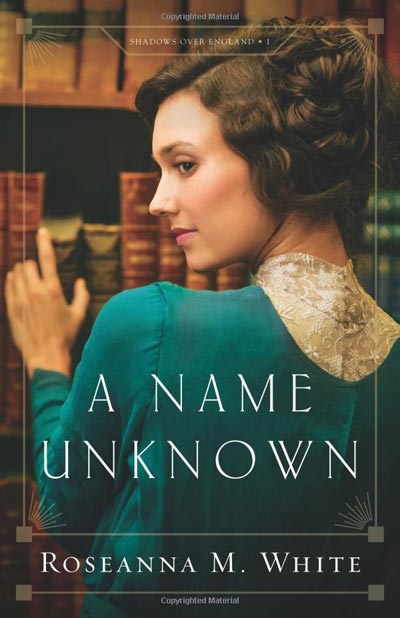 Author: Roseanna M. White
Publisher: Bethany House
Print Length: 434 pages
Release Date: July 4, 2017
I Rate it:    
Genre: Christian
Edwardian Romance and History Gains a Twist of Suspense

Rosemary Gresham has no family beyond the band of former urchins that helped her survive as a girl in the mean streets of London. Grown now, they concentrate on stealing high-value items and have learned how to blend into upper-class society. But when Rosemary must determine whether a certain wealthy gentleman is loyal to Britain or to Germany, she is in for the challenge of a lifetime. How does one steal a family's history, their very name?
Peter Holstein, given his family's German blood, writes his popular series of adventure novels under a pen name. With European politics boiling and his own neighbors suspicious of him, Peter debates whether it might be best to change his name for good. When Rosemary shows up at his door pretending to be a historian and offering to help him trace his family history, his question might be answered.
But as the two work together and Rosemary sees his gracious reaction to his neighbors' scornful attacks, she wonders if her assignment is going down the wrong path. Is it too late to help him prove that he's more than his name?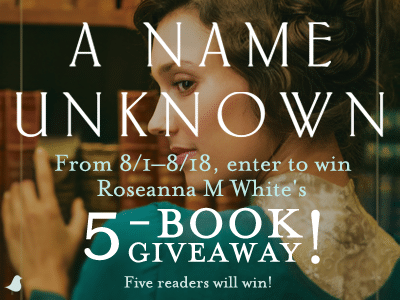 Roseanna M. White grew up in the mountains of West Virginia, the beauty of which inspired her to begin writing as soon as she learned to pair subjects with verbs. She spent her middle and high school days penning novels in class, and her love of books took her to a school renowned for them.
After graduating from St. John's College in Annapolis, Maryland, she and her husband moved back to the same mountains they equate with home.
Roseanna is the author of two biblical novels, A Stray Drop of Blood and Jewel of Persia, the historical romance, Love Finds You in Annapolis, Maryland, and the historical, romantic suspense Culper Ring Series (Ring of Secrets, Whispers from the Shadows, and Circle of Spies). She is also the senior reviewer at the Christian Review of Books, which she and her husband founded, the senior editor at WhiteFire Publishing, and a member of ACFW, HisWriters, and Colonial Christian Fiction Writers.
Roseanna M. White pens her novels beneath her Betsy Ross flag, with her Jane Austen action figure watching over her. When not writing fiction, she's homeschooling her two children, editing and designing, and pretending her house will clean itself. Roseanna has a slew of historical novels available, ranging from biblical fiction to American-set romances to her new British series. She lives with her family in West Virginia. Learn more at RoseannaMWhite.com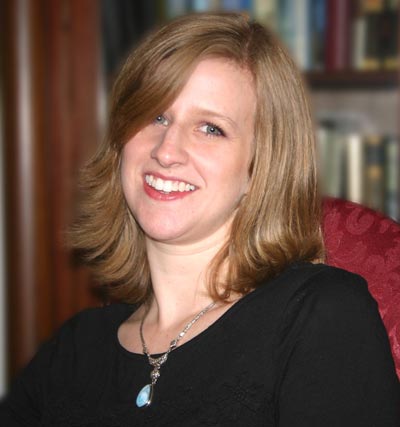 Book Review by Bree Herron
I seriously think that Roseanna has a time machine. She must travel back to each year and place that she writes about to give it such authenticity. A Name Unknown is beautifully crafted with raw and organic characters that will capture any historical fiction fan's heart.
Books like this book are a once in a lifetime read, you will be transported in the time machine to the streets of London,with a charming Rosemary. I loved that she was a "librarian" as that is a profession I have held and loved dearly. She is strong opinionated character that at some points probably drove the author to talking out loud. I mean this as she flies off the pages into your mind,and certainly into Peter's home and heart.
Calling all historical fiction readers! Enter to win a copy of @RoseannaMWhite's new #book! #giveaway http://bit.ly/2tW2S4L @Bethany_House
Click To Tweet
Peter was softer than Rosemary but I was a smitten kitten with him. He is just so darn cute in my mind! I seriously was planning my fictional wedding to him, by chapter 6. One thing I loved about him was that he learned from Rosemary. One scene they are people watching, looking a details playing " I Spy" and him acknowledge that she noticed such interesting small details, that he didn't see. Oh, Peter come to 2017 please.
One aspect this author always does perfectly is her research, I swear I could smell the streets, and the fog of London. I really loved the conflict for Peter of England v. Germany, his heritage and ultimately the outcome of Rosemary's mission. The details were great and made me more curious for the time period.  I was blown away, knowing that the book would amazing but didn't know it would be so mind blowing that I would be speechless. Another highly successful new series for Roseanna M. White.
I would love to see what your thoughts are on the pre-WWI era?
**DISCLAIMER: I was provided an opportunity to read this book as an Advanced Reader Copy in return for a fair and honest review.
<h2><span class="inner">Giveaway</span></h2>
Enter to win a copy of A Name Unknown. Five winners will be chosen! Click HERE to enter to win. The winners will be announced August 21st on the Litfuse blog!
Professional Reader Affiliates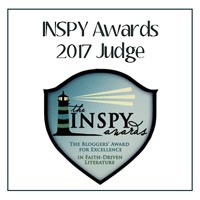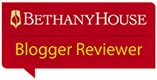 Affiliate Disclosure
I am grateful to be of service and bring you content free of charge. In order to do this, please note that when you click links and purchase items, in most (not all) cases I will receive a referral commission. Your support in purchasing through these links supplements the costs of keeping my website up and running, and is very much appreciated!