Author Interview: Julie Moffett
To say I am fan of Julie is a small understatement. I adore her books with Lexi Carmichael, geek girl and sleuth. Lexi makes the mystery world a better place. Fans of Janet Evanovich will love this series, and I am thrilled to have a chat with Julie about the upcoming 10th book No Regrets.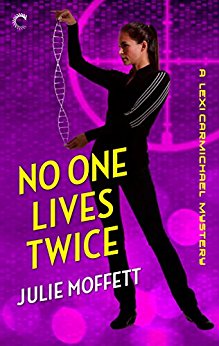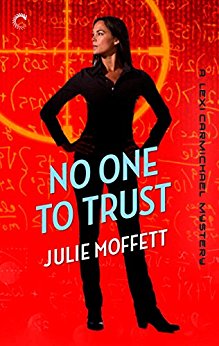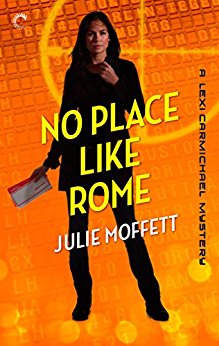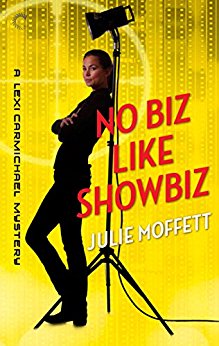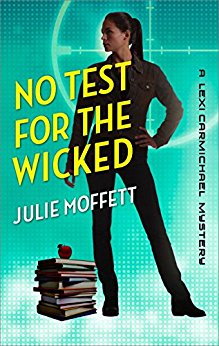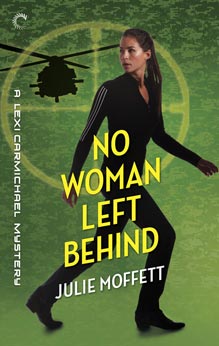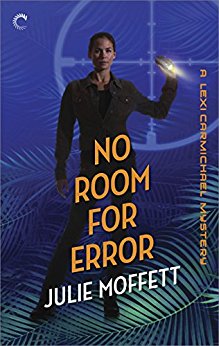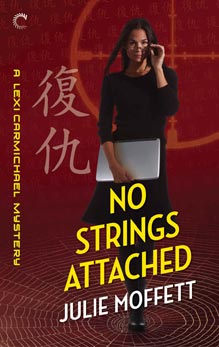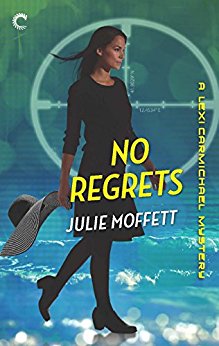 Book 1
A White Knights Novel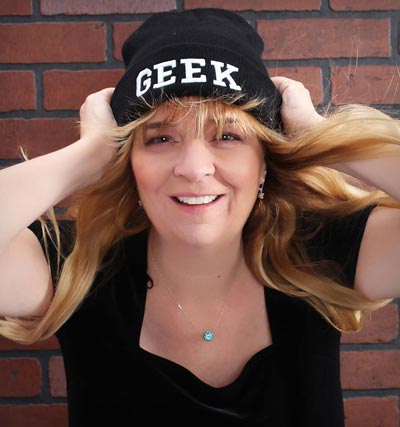 Julie Moffett is a bestselling author and writes in the genres of mystery, young adult, historical romance and paranormal romance. She has won numerous awards, including the 2014 Mystery & Mayhem Award for Best YA/New Adult Mystery, the prestigious 2014 HOLT Award for Best Novel with Romantic Elements, a HOLT Merit Award for Best Novel by a Virginia Author (twice!), the 2016 Award of Excellence, a PRISM Award for Best Romantic Time-Travel AND Best of the Best Paranormal Books of 2002, and the 2011 EPIC Award for Best Action/Adventure Novel. She has also garnered additional nominations for the Bookseller's Best Award, Daphne du Maurier Award and the Gayle Wilson Award of Excellence. Her book A Double-Edged Blade was an Amazon #1 Best-Selling Novel.
Julie is a military brat (Air Force) and has traveled extensively. Her more exciting exploits include attending high school in Okinawa, Japan; backpacking around Europe and Scandinavia for several months; a year-long college graduate study in Warsaw, Poland; and a wonderful trip to Scotland and Ireland where she fell in love with castles, kilts and brogues.
Julie has a B.A. in Political Science and Russian Language from Colorado College, a M.A. in International Affairs from The George Washington University in Washington, D.C. and an M.Ed from Liberty University. She has worked as a proposal writer, journalist, teacher, librarian and researcher. Julie speaks Russian and Polish and has two sons.
Visit Julie here:
Bree
Julie, thank you for sharing some time with us today! I am excited to help you promote your upcoming Lexi book No Regrets. What's it like to be celebrating the 10th full length book in the series?
Julie Moffett
Oh, it's so exciting! It's hard to believe that I'm already at Book 10! It's been an exciting journey with my geek girl and her friends.
Bree
It is amazing! Lexi is a hoot, but there are also amazing characters that support her. Who is your favorite character that you love to have with Lexi? All the characters bring something to Lexi's growth.
Julie Moffett
I really enjoy writing all the supporting characters! Basia was the first fully fleshed out secondary character I wrote. She's the expositional character in the series. She plays off Lexi's inexperience and offers suggestions to help bring her out of her geek shell with sometimes—well, most of the time—unexpected results. Elvis and Xavier are also both fun characters to write. They had a lot in common with Lexi, and yet they are different, so it's been interesting to plot their growth in different directions. Slash, of course, is an enigma, and it's been quite fun to write him. His growth has been the slowest, but he has a LOT of layers to peel.
Bree
Baisa is one of my favorites that you have created. Along with the twins.Nerd girl is a bit of your motto, what makes Lexi not only a nerd girl but a female character that all can love?
Julie Moffett
I think people identify with Lexi. She's highly intelligent, and yet touchingly naive about interpersonal relationships and friendships. She's a loner and painfully introverted, yet she's genuine, honest, intensely loyal, and always trying to figure out how to be a better person and friend. She's an interesting conundrum. She's smart enough to know she needs people and a life outside her "virtual existence," but she doesn't always know quite how to go about it.
Bree
How do you design your next book? Are you a vision board person, or do you have a unique way of planning it out?
Julie Moffett
Since I'm writing a long-running series, I need to plot not only each book, but the entire series. I have already developed a series arc and individual character arcs for all the main characters for the series. So, when I start a new book, I already know what character arcs and developments must be present in the story. After that, I write with a detailed outline, which I turn into a storyboard. I storyboard on one of those science fair trifold boards. I use color-coded sticky notes (one color for each character, a color for action and/or events, and a color for emotion) and stick them on the board in the rough order of how I want things to play out in the novel. When I'm ready to write the chapter, I pull down the sticky notes and know exactly what needs to go in the chapter. Things don't always go as planned—that's part of the creative process, and that's okay. Still, my plots can be complicated with a lot of moving pieces and international travel, so I'm a careful plotter. I've done this with all the books in my geeky Lexi Carmichael series, and now for my new young adult WHITE KNIGHTS mystery/spy series.
Bree
What's coming up for Lexi and you?
Julie Moffett
I'm officially contracted for two more Lexi books, but I think there will be more after that. I'm currently writing Book #11, NO STONE UNTURNED. I'm almost finished with the second book in my young adult spy/mystery KNIGHT MOVES.
Bree
Are you writing any books besides your Lexi series?
Julie Moffett
Yes! Thanks for asking! As I mentioned briefly before, I just released WHITE KNIGHTS, the first book in a young adult spy/mystery series. Early reviews have been great, so I'm excited about that! I've got several books plotted in this series, so stand by for more excitement!
Bree
It was a pleasure to chat! We look forward to more of your books on the shelves! 
Julie Moffett
Thank you for having me, Bree! oxo 
Professional Reader Affiliates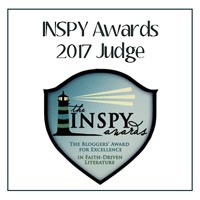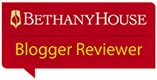 Affiliate Disclosure
I am grateful to be of service and bring you content free of charge. In order to do this, please note that when you click links and purchase items, in most (not all) cases I will receive a referral commission. Your support in purchasing through these links supplements the costs of keeping my website up and running, and is very much appreciated!